Cool weather, hot crowds in Europe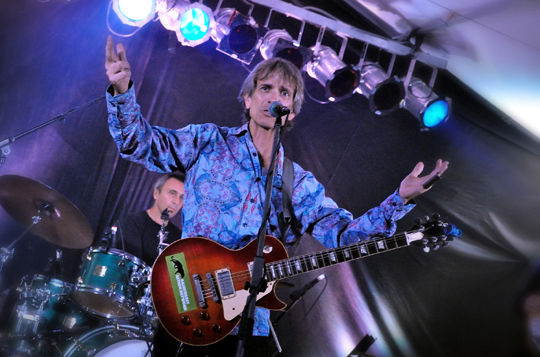 The latest European tour was short but wonderful. At the Schmölzer Blues Tage in Germany, we had one of the greatest crowds ever. Another fest in Switzerland and a couple of gigs on the lovely lakes rounded out the fun.
The Bluescoast Sessions are here!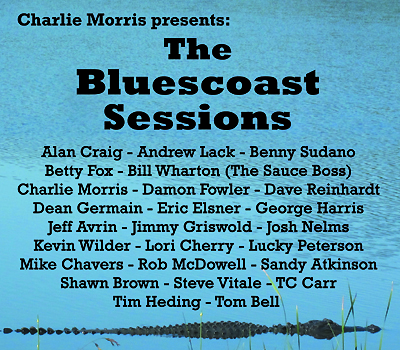 Ten years in the making, the new CD is finally here. The foam of the St Pete blues scene, caught in a series of informal jam sessions.
Here are 15 new original songs - almost 80 minutes of music - and a 12-page booklet with bios and pix of all my musical guests. But beware! This is serious blues, with lots of shuffles and long guitar solos. If you can't dig that, better not come in here!
Vikings meet Heidi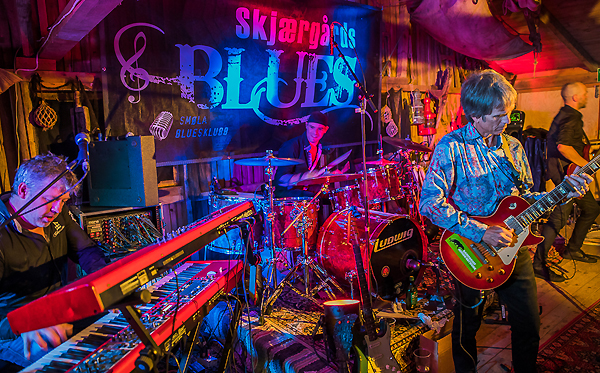 The latest European tour was one of the great ones. A really fun festival in the northern fjords of Norway, followed by four gigs in Switzerland - a festival, a house concert and two clubs.
Hot summer blues in Switzerland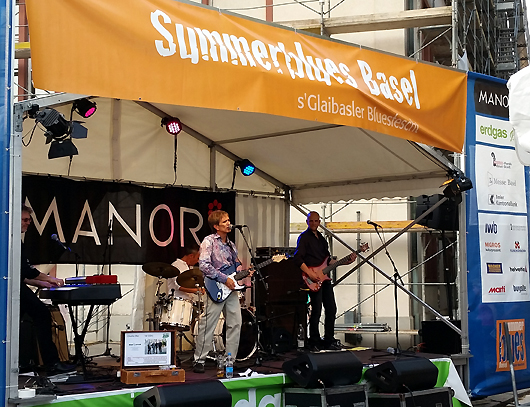 It was a light tour in Switzerland this summer, but we had a fantastic crowd at Summer Blues Basel, and had loads of fun playing a private party on the beautiful Isole di Brissago (a booking that resulted from last year's show at the Magic Blues Festival, thank you very much)!
Spring music scene in Florida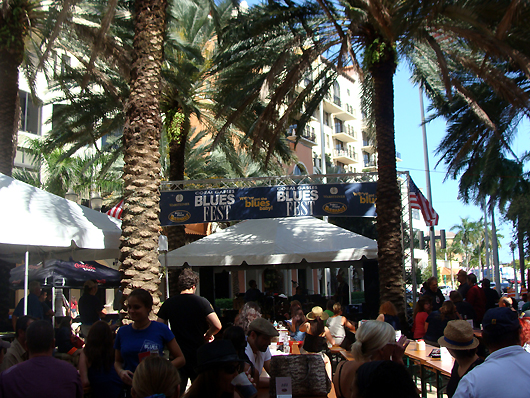 Spring is festival season in Florida. We had great shows at the Coral Gables Blues Fest, Pork Butt and the Cotee River Fest. We return to the Tangerine Blues Fest in November!
Still got the Blues in Switzerland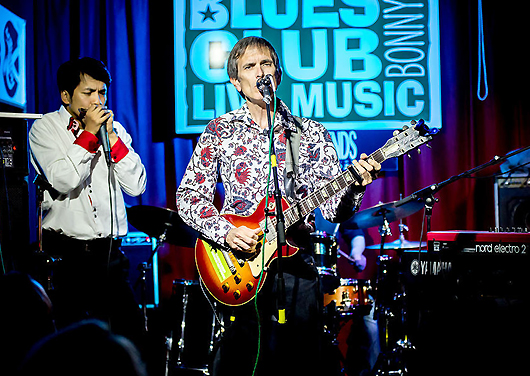 On the 2015 Swiss winter tour, we played all our favorite venues, and had a fantastic time. Here we are at Bonny B's cool new club, with the man himself blowin some of that blues harp.
Lightning Strikes Nice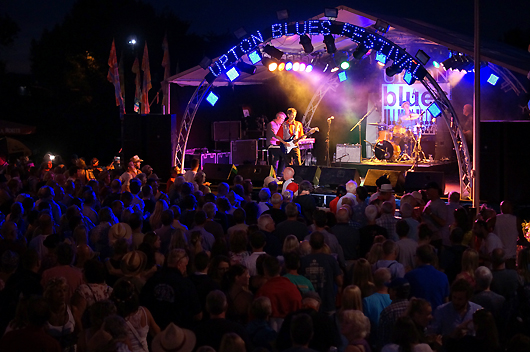 We played 4 festivals and 4 clubs on our 2014 summer tour of Switzerland and the UK. Cool weather, hot crowds, smokin music!
Peace, love and tangerines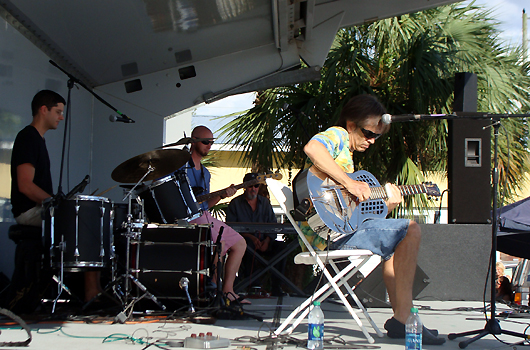 Plenty of festival action in 2013. We had a great time at the Tangerine Blues Festival in Gulfport in October, and another load of (chilly) fun at the Pigz in Z'Hills Festival in Zephyrhills in January. Charlie also played solo at the Pinellas Folk Festival.
Swingin Scene in Belgium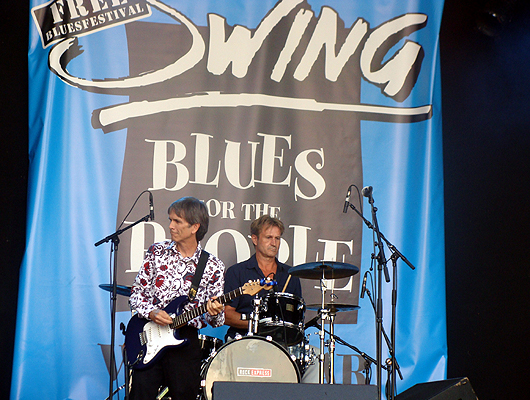 Summer in Europe, and the livin is easy. CMB gave the Belgians a taste of Florida gator tail at the Swing Festival in Wespelaar. The weather was perfect, and the show went great. We also played the Magic Blues Festival in Switzerland.
Bikinis and Blues on the Beach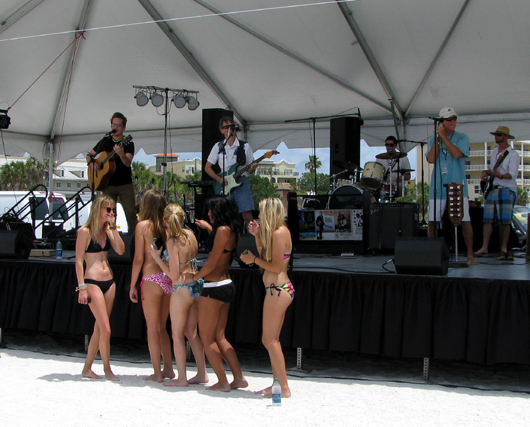 Only in Florida! Charlie and the boys had a great time at the Treasure Island Bikini Blues Bash, with special guest TC Carr (photo by Bob Levai). Festival season is always cool in the Sunshine State - this spring Charlie appeared at festivals in Sarasota, New Port Richey and Mount Dora.
2012: Live in Fribourg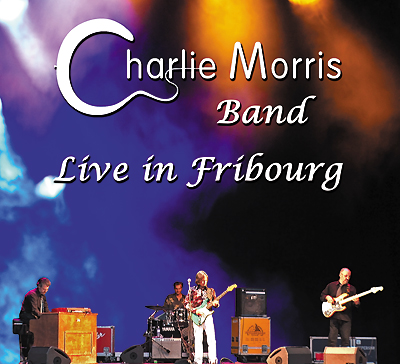 The DVD/CD set Live in Fribourg features an hour-long concert video that we shot at the Fribourg Jazz Parade. CMB plays our original Blues tunes on a big stage, with full-scale production and a crowd of 6,000. There are also 4 home movies of our antics on the road, and an audio CD with all the numbers from the Fribourg show, plus a bonus track.
2011: The Forest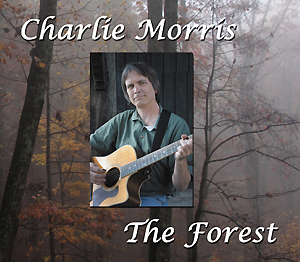 The Forest includes 13 songs in Americana style. It ain't blues. Charlie's acoustic guitar and Dobro are featured on all the songs. Dennis Wallace and Cornfused are just a few of the guest artists who lend their voices to these woodsy stories. Charlie and his acoustic trio, the Bowl o' Granola, played two CD release shows in September. Order the new disc with all deliberate speed.
Gator or Croc?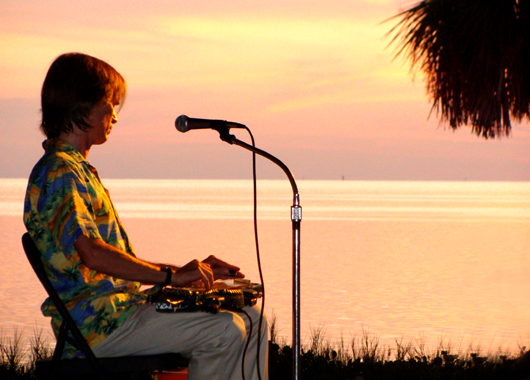 Charlie plays the gator (or is it a croc?) at Sunset Beach in Tarpon Springs in 2011.
Another Red Hot European Tour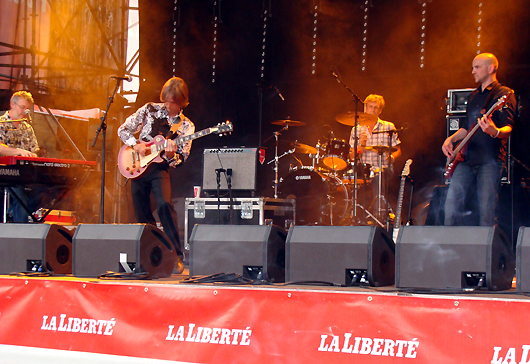 The 2011 summer tour of Spain and Switzerland featured two festivals, three clubs, a wedding and lots of good times.

Oil fouls our beaches, and it fouls our lungs
Cars kill our dogs and our teenage sons
Now they're off to war, and we all know why
But maybe they wouldn't have had to die
If we hadn't Got Greedy
We've released Got Greedy as an online single. All earnings from this song in 2010 were donated to environmental organizations.
Damon Fowler hits the Bluescoast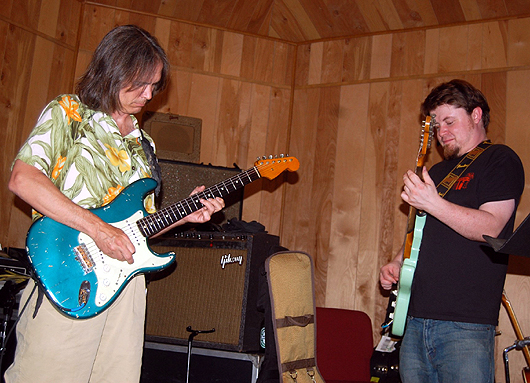 Blind Pig recording artist Damon Fowler joined us for a Bluescoast Session. This is the latest in a series of all-star jams that will be released on CD some fine day...real soon, we promise. With Tim Heding (James Brown, Greg Allman, Delaney and Bonnie) on the B-3 and Tom Bell and Mike Chavers in the engine room, we laid down five (or was it six?) tunes and had a splendid time. Damon's huge talent on guitars both slide and otherwise added some horseradish to Chuck's cocktail sauce (or something like that), and all agreed it was the best Bluescoast Session yet!
Tall Tales in Tennessee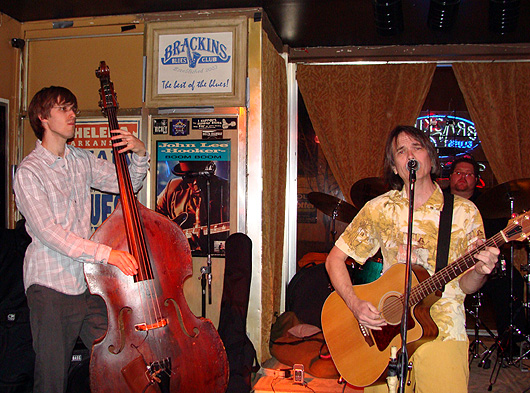 When Charlie gets tired of the flatlands, he heads for the Smoky Mountains. Here are some photos from Charlie's gigs in Knoxville, Nashville, Chattanooga and Asheville.
Charlie backs up
Darrell Nulisch in FL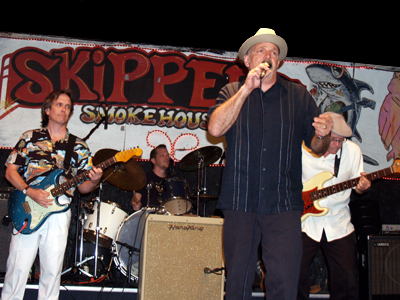 Blues and soul master Darrell Nulisch blew down to Florida for a couple of dates in 2008, and your favorite local boy was tapped to back him up and open the show. Darrell lays down some rootsy harp-driven blues and sings his ass off on some great soul ballads. Right up Charlie's alley, and he was tickled pink to be a part of it.
Friday night we did a gig at the Bradfordville Blues Club in Tallahassee, an excellent old-Florida venue where Chuck has played a couple of times before. Saturday it was the Suncoast Blues Society's anniversary bash at good old Skipper's. A fantastic party - kudos aplenty to the SBS - and the best turnout this smoked gator has seen at Skipper's in a long time. Darrell had the crowd in the palm of his hand from the downbeat to the encore.
Bluescoast Sessions welcome
Lucky Peterson, Sauce Boss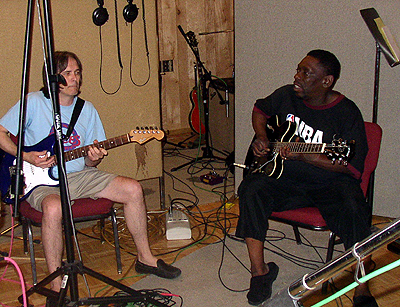 The Bluescoast Sessions, a series of informal jams with the greatest blues musicians from Florida and beyond, continued in April 2008.
Lucky Peterson is simply one of the greatest bluesmen alive. This man lives and breathes the blues, and it was a great honor to trade licks with him. Lucky stopped in on his way to the Tampa Bay Blues Festival. His set later on at the Ringside was one of the best blues shows I've seen in my life (and I have seen quite a few!), with a nonstop barrage of magical guitar lines holding the audience spellbound.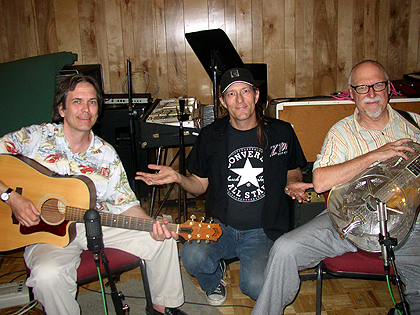 Bill Wharton, aka the Sauce Boss, is a real Florida bluesman, a mean steel guitar player and a super guy. We had a ball making up a crazy song about Fly Gumbo. This night was exactly what the Bluescoast Sessions was meant to capture.
Some fine day, the pick of the Bluescoast Sessions will be released on a big fat CD.
CMB kills at the
Montreux Jazz Festival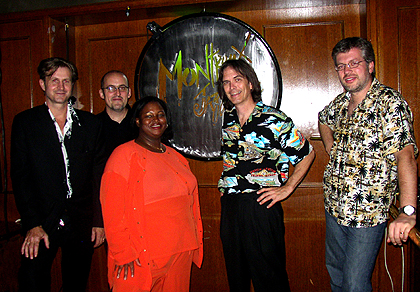 In July 2007, the Charlie Morris Band had a weeklong stand at the Montreux Jazz Festival. We had an absolute blast! Standing-room-only crowds plied us with champagne and whiskey, and all sorts of great musicians, including Steve Cropper and Duck Dunn, came by and sat in with us.
Power to the People!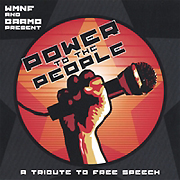 BAAMO and WMNF released a CD, Power to the People, with 15 songs of protest and political punditry by various artists. One of Charlie's new songs, I Don't Know My Neighbors Anymore, was selected for the disc. It's an acoustic version, recorded during Charlie's appearance on WMNF's Live Music Showcase. Later, Charlie recorded an electric version of the song, which ended up on The Forest.
Chuck and the band also played at the Power to the People concert at Skipper's Smokehouse, which featured 30 bands! They played Neighbors along with a tune by Iris Dement and one by John Prine.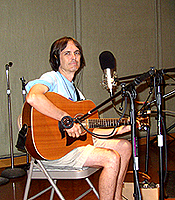 Charlie's been a big fan and supporter of WMNF for many years, and has appeared live on several different shows, including the Florida Folk Show and the Afternoon Blues Show. It was an honor to be a part of the Power to the People CD and concert!