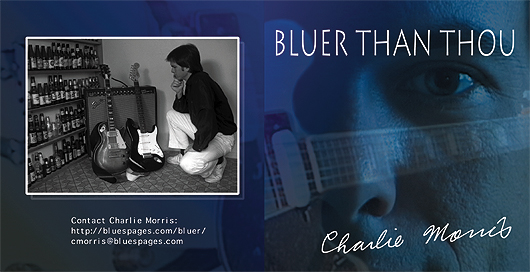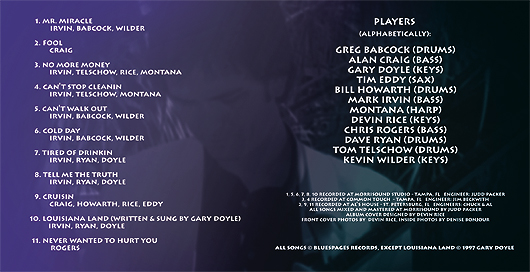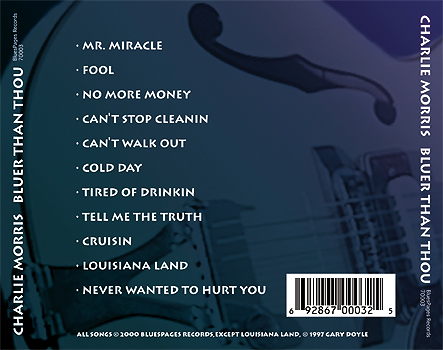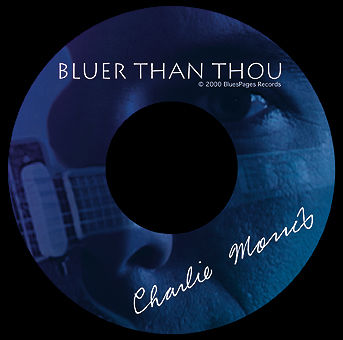 Recording and Design Notes
I put this one together from several different recording sessions. We had a little studio at Alan Craig's house, with a Tascam TSR-8 1/2-inch 8-track machine and a pretty good but basic setup. That's where we recorded Fool, Cruisin (with Bill Howarth, Devin Rice and Tim Eddy) and Never Wanted to Hurt You.
Jim Beckwith had a studio called Common Touch in Tampa, a 24-track ADAT rig if I remember correctly. That's where we recorded No More Money and Can't Stop Cleanin, in a late-night boozefest with Devin, Tommy T. and the colorful Montana. I think Devin played his Roland RD-300 piano.
Later I did two different sessions at Morrisound in Tampa, first with Mark Irvin, Greg Babcock and Kevin Wilder (Mr Miracle, Can't Walk Out, Cold Day), then later with Mark, Dave Ryan and Gary Doyle (Tired of Drinkin, Tell Me the Truth, Louisiana Land). Used their grand piano and Hammond B-3. I believe all of these tunes were tracked on a 2-inch 24-track. Also did the mixdown and mastering at Morrisound.
I regret the way I did the liner notes on this one. I wanted to show who had played on which tunes, but I did it the wrong way, so it looks to most people as if the players on each cut are actually the writer credits for each cut. Of course, if you thought about it a bit, you would see how unlikely it would be for every tune to have a different team of songwriters, none of which included the bandleader, but anyway it's confusing. If I order more of this release someday, I may change the cover.
In fact, I wrote all the songs, except Louisiana Land, which Gary Doyle wrote and sang.
Devin Rice designed the graphics, superimposing a photo of Louise (my Univox ES-355-style hollowbody) over a shot of my mug. The pic of me choosing a guitar was taken at my house, in front of my once proud beer bottle collection, which was sacrificed to matrimony.