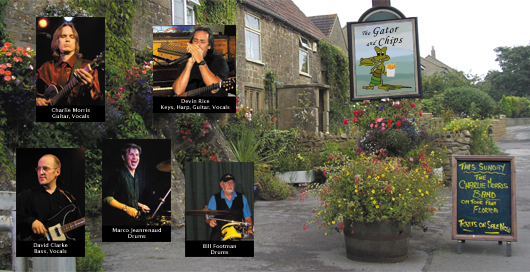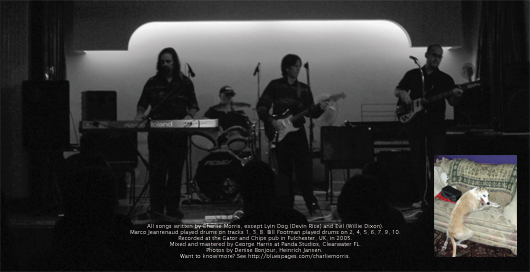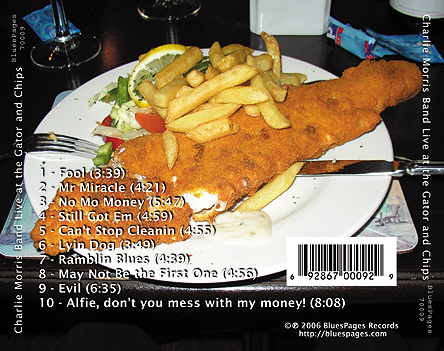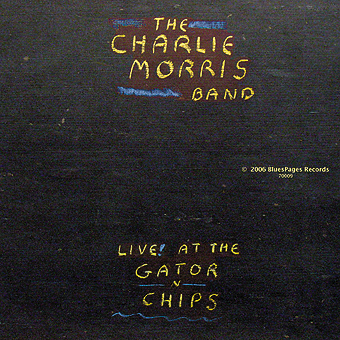 Liner Notes
Charlie Morris
Guitar, Vocals
Devin Rice
Keys, Harp, Guitar, Vocals
David Clarke
Bass, Vocals
Marco Jeanrenaud
Drums
Bill Footman
Drums


All songs written by Charlie Morris, except Lyin Dog (Devin Rice) and Evil (Willie Dixon).
Marco Jeanrenaud played drums on tracks 1, 3, 8. Bill Footman played drums on 2, 4, 5, 6, 7, 9, 10.
Recorded at the Gator and Chips pub in Fulchester, UK, in 2005.
Mixed and mastered by George Harris at Panda Studios, Clearwater FL.
Photos by Denise Bonjour, Heinrich Jansen.
Want to know more? See http://bluespages.com/charliemorris.
Lyrics
Alfie
Fell off the wagon the other night
Went to a party and the mood was right
The moon was full and the music was fine
Some blokes were handin round a jug of moonshine
They were workin on this homemade whet
But they hadn't got the recipe right just yet
It was what you might call an experimental tipple
Smelled like a cross between kerosene and ripple
Tasted more like an old sock than was quite right
All I know is, it gave me a wild night
and I woke up with a long, skinny blond called Alfie.
I drank some of that stuff, and I was in rare form.
The night was cold, but her coat was warm
She didn't talk much but I didn't mind
Hell, I could hardly speak myself by that time.
I barely remember goin down to her pad
Her kisses were toothy and her breath was bad
She had a hairy chest and hairy arm pits
Somehow she seemed to have more than 2 tits!
I woke up with a long, skinny blond called Alfie.
So that's the end of my TAIL of woe.
All I know is I ain't drinkin moonshine no mo.
It's always nice to bury your bone
But sometimes it might be better to go home alone
Instead of wakin up with a long, skinny blond called Alfie.
Recording and Design Notes
We used a Fostex stand-alone hard disk recorder to record almost every gig of our marathon (21 gigs in one month) 2005 Tour of England and Scotland. Three mikes (sometimes two) on the drums. Eight tracks in all. The Fostex was very dependable, and I was pleased with it. The only problem: there's no USB or Firewire output, so the only way to transfer your files for mixdown is to burn a CD, which takes forever and is prone to errors.
I took the recordings to Panda Studio in Clearwater for mixdown. George Harris performed his usual magic, et voila!
Does the Gator n Chips pub in Fulchester really exist? Is that really a gator on the plate, and even if it is, is it really the gator that drank tequila and followed us around on the tour? I'll never tell. However, if you can guess the name of the dog (a lercher, by the way) on the inside cover, I'll send you a free CD!