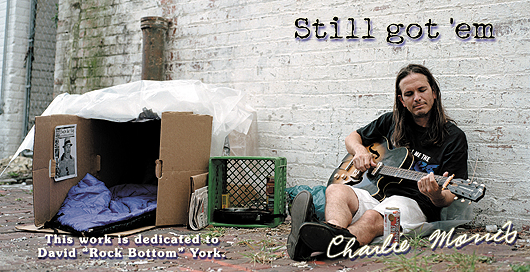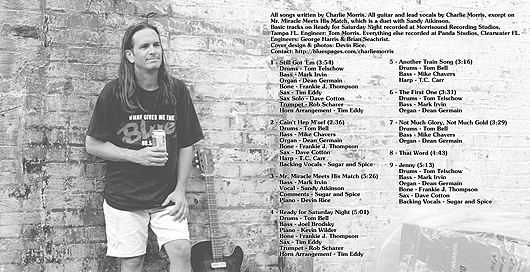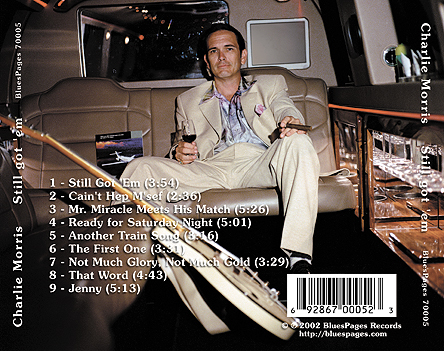 Liner Notes
All songs written by Charlie Morris. All guitar and lead vocals by Charlie Morris, except on Mr. Miracle Meets His Match, which is a duet with Sandy Atkinson.
Basic tracks on Ready for Saturday Night recorded at Morrisound Recording Studios, Tampa FL. Engineer: Tom Morris. Everything else recorded at Panda Studios, Clearwater FL. Engineers: George Harris & Brian Seachrist.
Cover design & photos: Devin Rice.
Contact: http://bluespages.com/charliemorris
1 - Still Got 'Em (3:54)
Drums - Tom Telschow
Bass - Mark Irvin
Organ - Dean Germain
Bone - Frankie J. Thompson
Sax - Tim Eddy
Sax Solo - Dave Cotton
Trumpet - Rob Scharer
Horn Arrangement - Tim Eddy
2 - Cain't Hep M'sef (2:36)
Drums - Tom Bell
Bass - Mike Chavers
Organ - Dean Germain
Bone - Frankie J. Thompson
Sax - Dave Cotton
Harp - T.C. Carr
Backing Vocals - Sugar and Spice
3 - Mr. Miracle Meets His Match (5:26)
Bass - Mark Irvin
Vocal - Sandy Atkinson
Comments - Sugar and Spice
Piano - Devin Rice
4 - Ready for Saturday Night (5:01)
Drums - Tom Bell
Bass - Joel Brodsky
Piano - Kevin Wilder
Bone - Frankie J. Thompson
Sax - Tim Eddy
Trumpet - Rob Scharer
Horn Arrangement - Tim Eddy
5 - Another Train Song (3:16)
Drums - Tom Bell
Bass - Mike Chavers
Harp - T.C. Carr
6 - The First One (3:31)
Drums - Tom Telschow
Bass - Mark Irvin
Organ - Dean Germain
7 - Not Much Glory, Not Much Gold (3:29)
Drums - Tom Bell
Bass - Mike Chavers
Organ - Dean Germain
8 - That Word (4:43)
9 - Jenny (5:13)
Drums - Tom Telschow
Bass - Mark Irvin
Organ - Dean Germain
Bone - Frankie J. Thompson
Sax - Dave Cotton
Backing Vocals - Sugar and Spice
Lyrics
Still got 'em
I used to sleep on satin pillows, and satin sheets
Now I live in a cardboard box out on the street
But that's alright, whoa baby, that's alright
Cause I still got my guitar, and I still got the blues
I used to have me a limousine, I even had a private plane
Now all i got is a sheet of visqueen to keep out the rain
But that's alright, whoa baby, that's alright
Cause I still got my guitar, and I still got the blues
Burned down my house, gambled away my car
But I got a pint of old milwaukee and my old guitar
That's alright, whoa baby, that's alright
Cause I still got my guitar, and I still got the blues
Recording and Design Notes
This one was recorded over a fairly short period of time for me (a few months). I used a lot of different musicians because I tried to pick the most appropriate players for the style of each song. At the time, I was fortunate in having a good stable of keyboard players, who all have very different styles. For the songs with organ, I naturally picked the "Baron of the B-3," Dean Germain. Ready for Saturday Night is a jazzy swing number, so the perfect choice for that song was Kevin Wilder, aka "Doctor Monkeylove," a man with jazz chops to burn. Joel Brodsky's walking bass was a great choice on that one, too. We recorded that tune at Morrisound in Tampa, because they have a nice grand piano. On Mr. Miracle Meets His Match, I wanted a rootsy, honky-tonk piano, so I tapped Devin Rice. He recorded the part at his house on a funky old upright.
There were a couple of lost tunes from these sessions. While at Morrisound, we also recorded the instrumental song What A Scene, with Kevin playing the grand piano. At some other point, we tracked a version of the tune with Dean Germain playing organ. At mixdown time, I decided I didn't like either version of the song - it just wasn't up to the quality level of the rest - so I left it out. More on that ghost of a song later!
The rest of the tunes were recorded at Panda Studio in Clearwater, with George Harris working his usual voodoo. If I remember correctly, back in those days we still used a 24-track tape recorder to record the basic tracks (drums, bass, guitar, keys), then transferred to ProTools to do the overdubs. In fact I do remember correctly, because I now recall an evening when the recorder went wild, with tape spewing out on the floor - we got no recording done that night.
I had planned to have my old buddy and blues hero, Rock Bottom, play harp on some of the tunes, but sadly, he left us just before I started recording (inconsiderate of him, I know). So that's why I featured a dedication to him so prominently on the cover (and mentioned him in the lyrics to Another Train Song). Fortunately, my other all-time favorite harp player, TC Carr, was available and did a fantastic job. Tim Eddy's horn arrangements and Sugar and Spice's backing vocals were some thick and rich icing on my cake. Mr. Miracle Meets His Match, a duet with Sandy Atkinson, has turned out to be my most popular song ever - lots of listeners, DJs and pundits have told me it's their favorite.
I recorded the slide parts with "Louise," a Univox ES-355 style hollowbody (in open G, as are all my slide parts). That Word I recorded with my Guild acoustic. On all the rest, I probably used my Mexican Strat.
I'm especially proud of the cover on this one. The two pictures represent the "before" and "after" scenarios described in the title song. I had a limousine, a private plane, etc, then I decided to start a blues band! Devin Rice shot the pictures (in an alley in downtown St Pete, and a rented limo) with a medium-format camera which (despite the name) has a much larger film format than an ordinary camera (120mm instead of 35mm), and thus much higher image quality. We took the negatives to a service bureau, who scanned them at 1200 dpi, then brought the files into Photoshop to design the cover. These pix are so sharp and clear that I was able to blow one of them up to make a 11x17-inch poster, and it still looks fantastic.