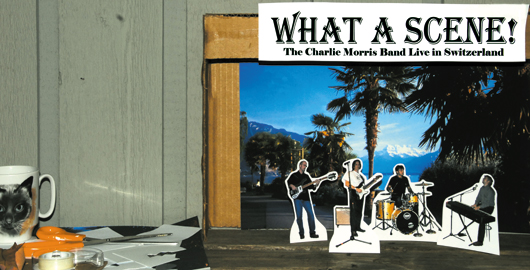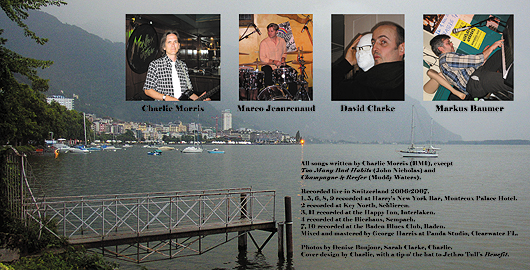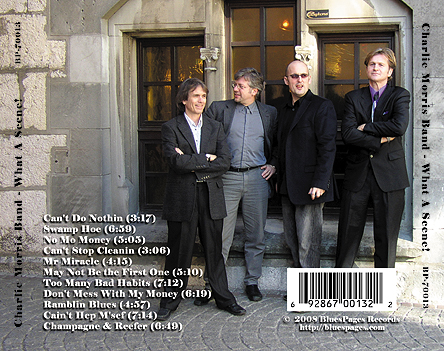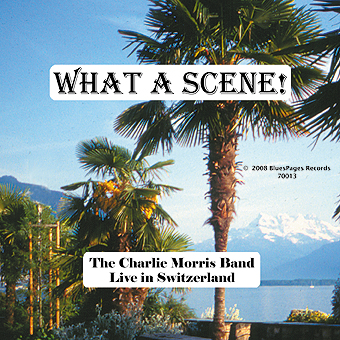 Liner Notes
All songs written by Charlie Morris (BMI), except Too Many Bad Habits (John Nicholas) and Champagne & Reefer (Muddy Waters).
Recorded live in Switzerland 2006-2007.
1, 5, 6, 8, 9 recorded at Harry's New York Bar, Montreux Palace Hotel.
2 recorded at Key North, Schlieren.
3, 11 recorded at the Happy Inn, Interlaken.
4 recorded at the Bierhaus, Sempach.
7, 10 recorded at the Baden Blues Club, Baden.
Mixed and mastered by George Harris at Panda Studio, Clearwater FL.
Photos by Denise Bonjour, Sarah Clarke, Charlie.
Cover design by Charlie, with a tip o' the hat to Jethro Tull's Benefit.
Lyrics
Can't Do Nothin
Can't do nothin any more, why that is I'm not sure.
I'm in love, what a thrill! I can't do nothin but talk about my girl.
I know you think I'm lazy, but it's her love that's drivin me crazy.
Can't do nothin, but love my baby
I can't eat, I can't sleep. Can't poo, can't pee.
Can't read, can't write. Can't get up in the morning, can't go out at night.
I know I'm sinking down, but her love's got me chained and bound.
Can't do nothin, but love my baby
Can't dance, I can't sing. All I can do is talk about my good thing.
Can't seem to have no fun. Lord knows I can't get no work done.
I know you're scandalized, but her love's got me paralyzed.
Can't do nothin!
Swamp Hoe
I want a swamp hoe, swamp hoe's what I want.
I want a swamp hoe, swamp hoe's what I want.
I want a swamp hoe, to dig out my bass pond.
I need a swamp hoe, swamp hoe's what I need.
I need a swamp hoe, swamp hoe's what I need.
Nothin but a swamp hoe can dig out this brush and reeds.
You like catfish?
Well, there ain't gonna be no more catfish.
With this here global warming, the phytoplankton, they're all gone!
No more phytoplankton, no more catfish.
So I decided I would dig my own fish pond.
Just one problem. My pond is full of brush and reeds.
And the only way to dig it out is with a Swamp Hoe.
I want a swamp hoe, swamp hoe's what I want.
I want a swamp hoe, swamp hoe's what I want.
I want a swamp hoe, to dig out my bass pond.
Recording and Design Notes
In late 2006 and early 2007, we were still using the Fostex stand-alone recorder that we used on Gator n Chips. For the Montreux gig, where most of these cuts were recorded, we upgraded to a cooler system. We now have a Mackie Onyx board, which sends a 16-track digital signal over firewire to a laptop running Mackie's Tracktion software. The Fostex worked great, but its main drawback was that the CD burner was the only way to transfer recordings to another system for mixdown, and the CD burning process took forever and had a lot of errors. With the laptop-based system, you record directly to the computer, so you never waste time transferring files, and you can listen to a recording immediately (or the next morning - "Wow, did we really play that?") Also, we now have up to 16 tracks at 24 bits, 48 kHz, and the Onyx is a good, versatile live board.
The drums were recorded on three tracks: a bass drum mike and two overheads (little Russian condensors, very good). The bass was recorded direct via a line out on the amp, the keys go through the board, and a trusty old crappy old SM-57 on the guitar amp.
Back at Panda Studio in Florida, we sifted through a few takes of each tune to choose the best. It's a long and tedious process and (for us anyway) it's more a matter of trying to find one acceptable version than being torn between wicked renditions. In the end, I try to choose the one that had the best feel, even if there are mistakes. Then George uses all kinds of ProTools jiggerypokery to try to fix those mistakes! He's earned the nickname "The Clam-buster of Clearwater" for his skill in burying fluffed notes, forgotten lyrics and even major timing errors. But I won't tell you much more about that!
The cover was inspired by Jethro Tull's Benefit. Actually it was inspired by necessity - I wanted a live pic but, search as I might, I simply did not have one decent pic of all four of us on stage. So I cut out individual pix, set 'em up in front of a lakefront shot of Montreux, and photographed the little tableau. Getting the lighting right was a bitch. I learned that to shoot little things like that, and have it come out half decent, you need A LOT OF LIGHT. Finally shot it on the porch with oblique afternoon sunlight.
Could I have simply done the whole thing in Photoshop? Sure, but that would have been fake and no fun - like using a synth instead of a real B-3, or a pedal instead of a real Fender amp.
The inside photo is also Montreux, of course. The one on the back (tray) was taken in Baden.
We ended up mixing more tunes than we needed for this CD, so I put the "overflow" tracks on a companion CD, called What An Incredible Scene! This disc, which sports a similar but slightly different cover, is what I call a "B" release. We don't offer it for sale, but occasionally I bestow a free copy on a deserving fan (maybe you - just ask). The songs that got bumped to the B disc weren't necessarily worse recordings. Some were covers, and some were slower, more mellow tunes, and I chose mostly upbeat tunes for What A Scene! The "title track" of the latter is an instrumental that we sometimes use as a show opener and closer, and it ended up on the B disc because, once again, the version that we recorded just wasn't quite good enough for prime time.