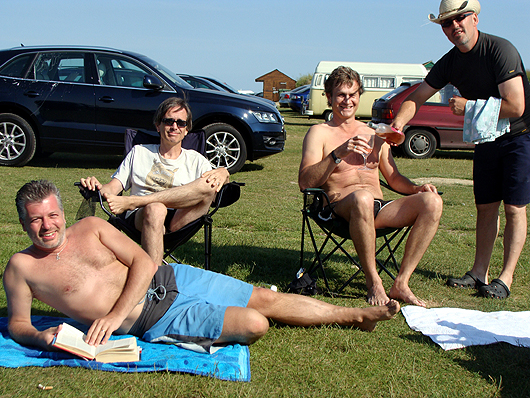 A Piece of Cake
Well, we finally learned our lesson. After years of racing from one end of Britain to the other, squandering thousands of quid on hotels and gas, this time we decided to make our base in the lovely seaside town of Chichester, and do shows around the South Coast from there. The result was the Piece of Cake Tour.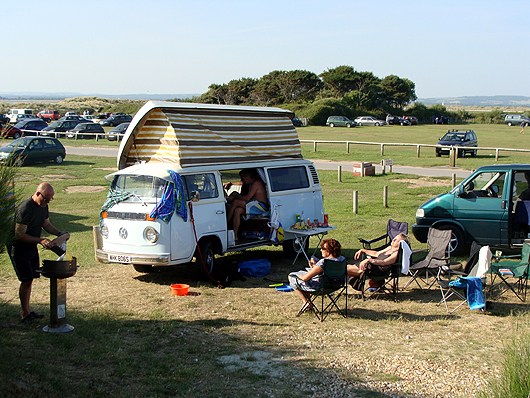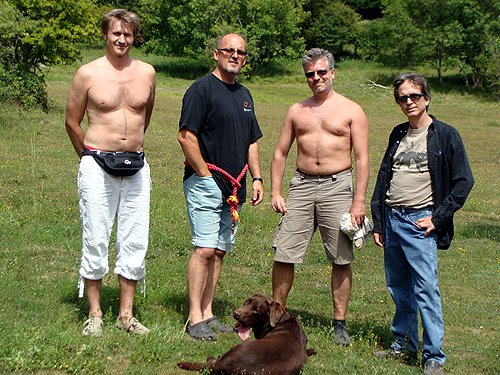 We had a splendid time riding around in Dave's VW camper van, and dining on Sarah's excellent cooking. We enjoyed a brilliant day at the seaside, a smashing ramble through the verdant English countryside...oh, and we did do some gigs as well.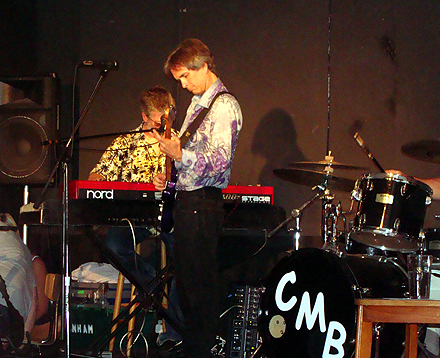 At the Victoria Institute in Arundel, we had a packed house, and a lively one at that. Dancing and shouting and making witty comments they were (and it's a good thing someone was).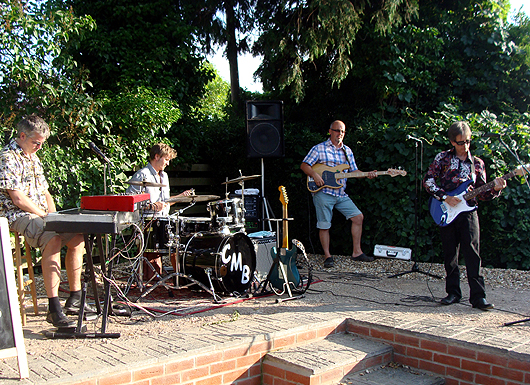 At the Gribble Inn in Oving, we played on a lovely stage in the garden. This is a beautiful old pub, with Olde English real ales and all that is proper.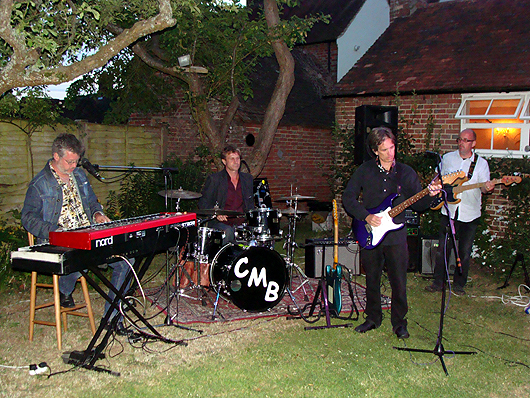 At the Angelsey Arms we also played in the garden, and enjoyed gourmet fare. Warm days and deliciously cool nights, quite a contrast from hot and muggy Florida.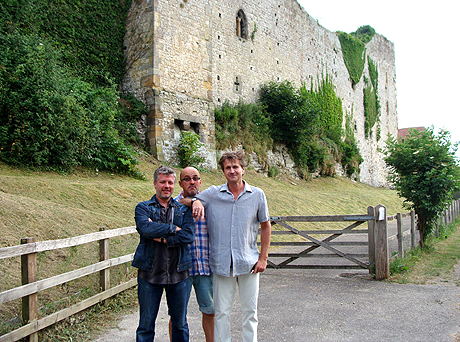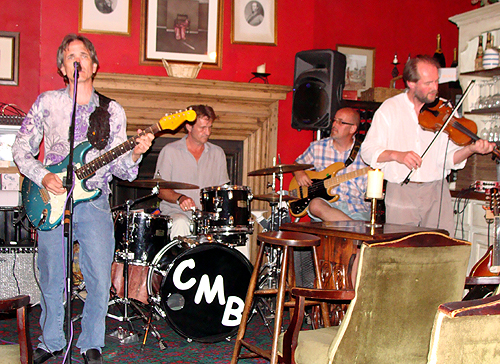 Amberley is a quaint village of thatched cottages and lovingly-tended rose gardens, with BMWs and Bentleys parked out front. Host Jonny Wigg played a bit of fiddle with us on a couple of Cajun tunes.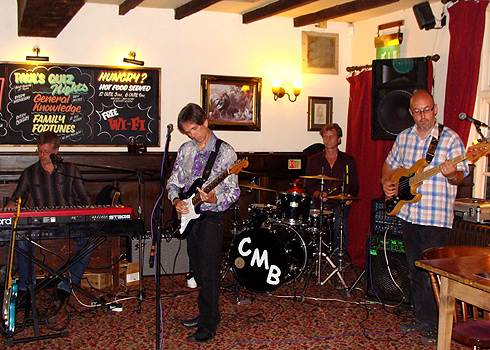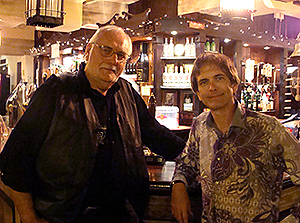 We had a great crowd at the Beresford Arms, another classic English pub. We also caught up with some old friends, including Bill Footman (who played drums with us on part of the Gator n Chips tour and the resulting CD).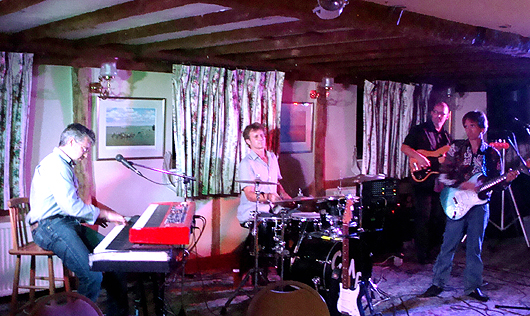 The last show of the UK leg was at the Inglenook Hotel in Pagham, near Bognor Regis. It's a lovely hotel, and they treated us great, with a full-on English roast that everyone voted the Best Meal of the Tour.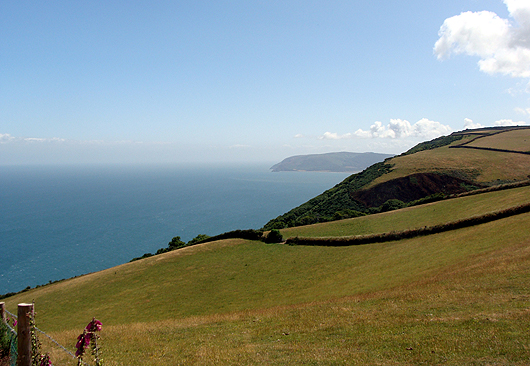 After the gigs, Chuck and the Tigress took a trip to the coast of Devon, from which I simply must show you this one panorama.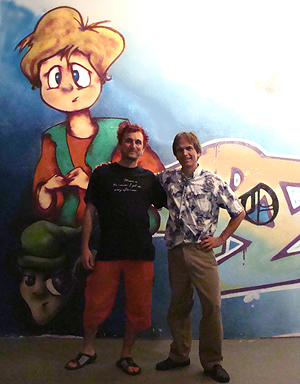 Next was a nice easy hop across the Channel to Switzerland. Charlie met up with Christian Schenker at a studio in Bern, and recorded a track for his new CD. The Tennessee Gator added some Can't Stop Cleanin-style country chicken pickin to Christian's song about a hyperactive kid (I had a bouncing ball for lunch and a sack full of fleas for dessert).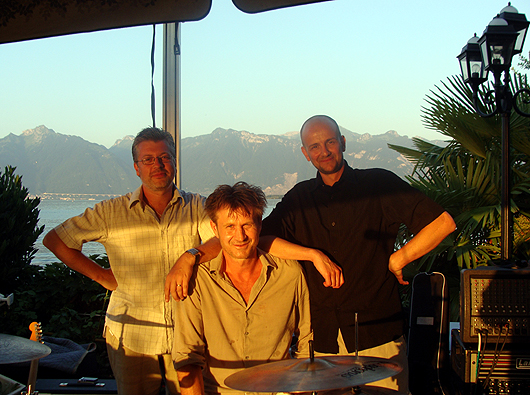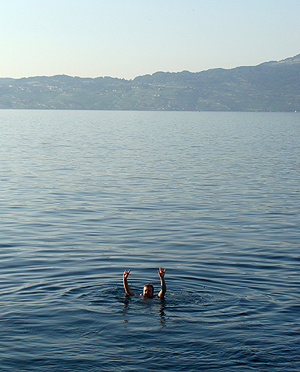 We returned to the petit village of St Gingolph, over on the French side of Lake Geneva, to play a private party. Did a little swimming (that's Markus out there), a lot of eating and drinking, and played until le flics shut us down.
At the Restaurant du Lac in Vallamand, we had an excellent stage outside by the lake, a full patio of diners and merrymakers, and yet another evening of beautiful weather. These long cool summer evenings are a pleasure finer than any wine, cheese or even coffee. Of course, we had plenty of that stuff too, including an excellent filet de perche, certainly the best dish on the Swiss leg of the tour. Ivan Rougny filled in on bass for the Swiss leg of the tour, and did a great job.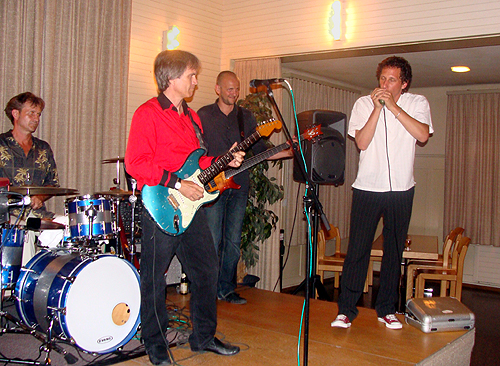 The tour wound up on a fantastic note, at a concert for Music Friends in a lovely little village near Zug. Lovely stage, great people, splendid hotel. Jan Hartmann, a very fine harp player from Zurich, got up for a tune and ended up playing with us most of the night.
Another wonderful tour - lots of great music, lots of fun times with friends old and new. How lucky can one man be? The next Swiss tour will take place in February and March 2011.