Bunga Bunga!
Why bunga bunga? Well, first because we feel sorry for poor Berlusconi. At the beginning of the tour, he was in the headlines every day, and it looked like he was building a nice second career as a tabloid star. Then came Egypt. Then Libya. Then Japan. Madonna di latte! Poor Berlusconi was forgotten like last year's boy band. So we thought we should remind everyone that he's still out there, and still as big a jerk as ever.
The second reason we called this the Bunga Bunga Tour is that we've found that every time we use a term that has something to do with pornography, the web site gets more hits in a week than it usually does in a year. The 2009 Camel Toe Tour page continues to receive thousands of visits every day, even though it has nothing to do with camel toe, or with camels (sorry, porno saddos and animal lovers).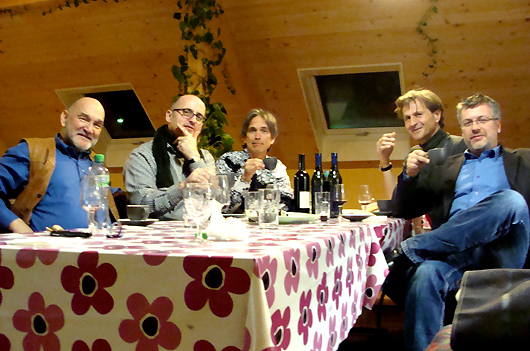 The first show of the tour was at the Bar de la Ferme, which might just be our favorite gig of all time. We've played here every year since 2003, and every time we have a great crowd, a great dinner and a great time hanging out with Denys.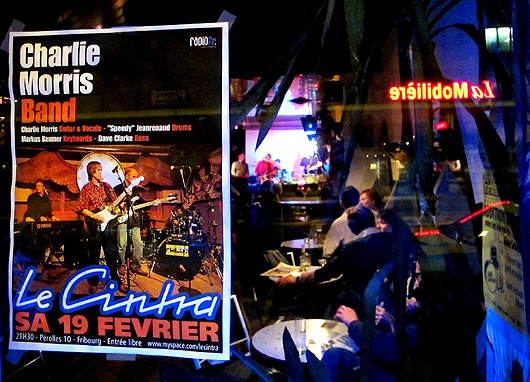 Le Cintra in Fribourg is another old favorite. Every corner of the place is cluttered with musical gear - there are drums piled up in the stairwell, and guitar cases in the bathroom. This was surely our best gig ever in this room - we sold a record number of CDs, and the crowd was dancing like crazy. Some got a little too crazy, I'm afraid. When we played a Cajun train beat, poor Olga couldn't help herself, fell down and hurt her knee. We wish her a quick recovery. Marcel Dousse took some nice photos.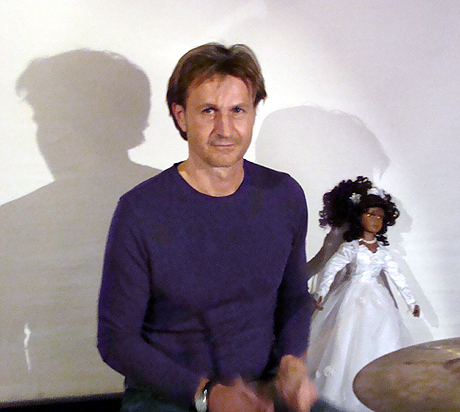 We always have a great crowd at the Gwölb in Watt, but this time was really special, one of those gigs that makes you forget all the troubles of the road, and stop talking about giving up the music business for a while. The people were with us from start to finish. When I asked "Did you have a good time tonight?" they shouted as one, like a crowd at a football game. It would have been even cooler if they had shouted "Ja!" instead of "Nein!" but we'll take what we can get.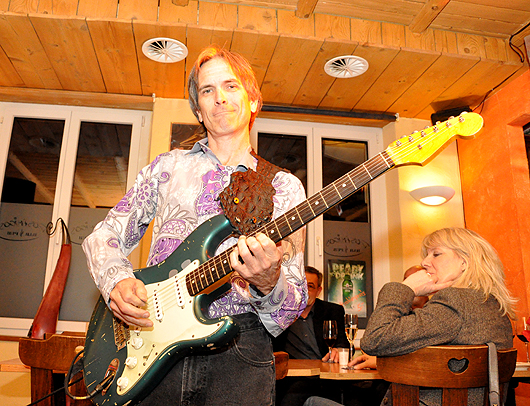 Our old friend Padu has a new club, Dos Amigos, and it's an improvement on the old place. The Alte Post was more of a traditional Swiss restaurant, and this place has more of a pub atmosphere, feels more like a live music venue. The recently-enacted smoking ban was a problem at the old location. Dos Amigos has a glassed-in smoking room, which gives us something to look at, kind of like a fog-filled fishbowl.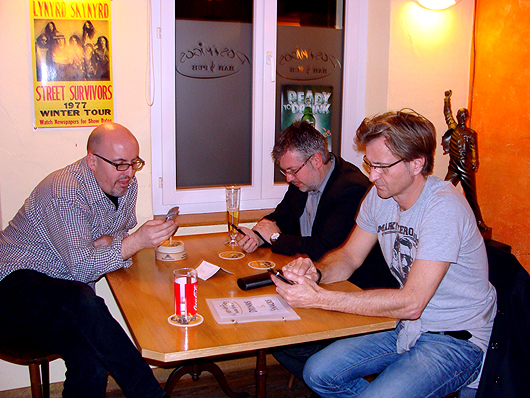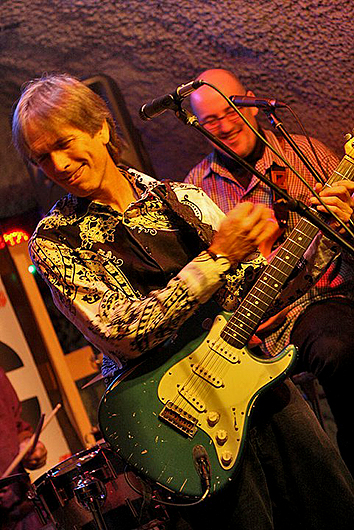 Our second appearance at Blues Club Bühler was a wild party. They love the blues here, and they love to get the bands drunk (or maybe just us). The boss man and his family were laughing it up as they presented a round of flourescent red local schnapps every other song or so. Once again, Werner Gmünder snapped some fine photos.
Also a second time around was the Baronessa. Here the crowd was a bit small (but that's okay, we don't need a lot of people to have a good time - hell, some of the best times I ever had, wasn't but two of us there). It's fun hanging out with Tom, a real fan of music, not to mention old cars and phonographs.
Sadly, David Clarke, our resident rosbif, will not be with us on the next tour. He's had a taste of fame and fortune with Rhapsody, a Queen tribute band in the UK, and that plus his activities as a real estate tycoon are consuming all his time. In the tradition of the great Miles Davis and Frank Zappa, I encourage my sidemen to strike out on their own and become stars in their own right (as so many have over the years). When you get a chance to get some glory and some gold (plus the chance to wear a wig) in this shi...interesting business, I say grab it!
Geneva resident Ivan Rougny took over the bass chair halfway through the tour, and is picking things up real fast. He still needs to learn the finer points, like switching someone's wine for Coke when they go to the bathroom, or piling furniture in front of hotel room doors, but that will come.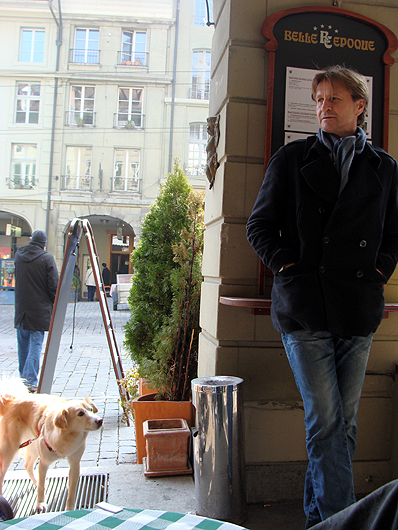 The Rolls Royce Bar and the Hotel Belle Epoque are both low-volume rooms, and they both have acoustic pianos, so it's a miracle they've put up with us for so many years. We tone it down here, and ease in a few jazzy numbers - A Night in Tunisia was very apropos this year. Jürg and Bice are wonderful hosts, and it's obvious that they have a great time running the hotel and hanging out with the folks. We finally coaxed Jürg into playing Blueberry Hill with us on his saxophone.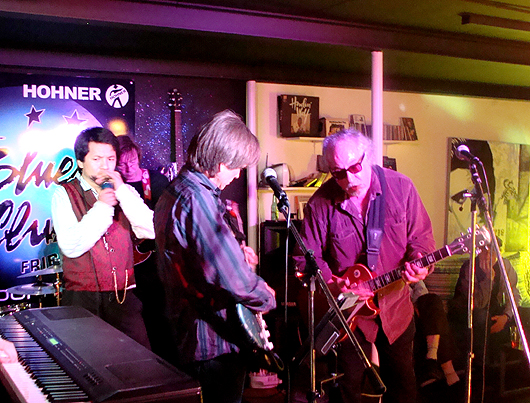 Bob Margolin's gig at Bonny B's Blues Club was a highlight. Bob did a short tour with Bonny, Speedy, Markus and Chichille, and Charlie came to the grand finale gig to hear the master and to sit in on a couple of tunes. Steady Rollin Bob Margolin played in Muddy Waters' band for years, and that alone would make him a holy man. Throw in his masterful guitar licks, his easygoing entertaining style and his delicious sense of humor, and you got one of the best blues shows I've heard in years. He and Bonny B worked together like red beans and rice. It was a great honor to get acquainted with Steady Rollin Bob by trading a few guitar licks.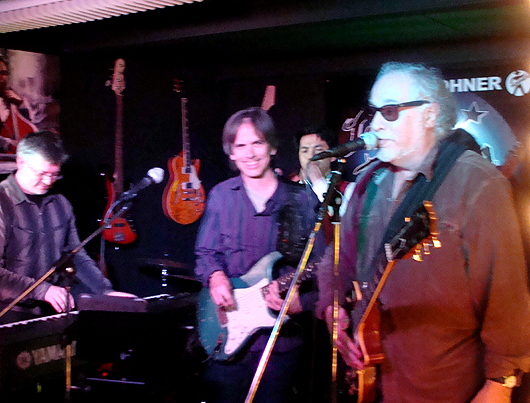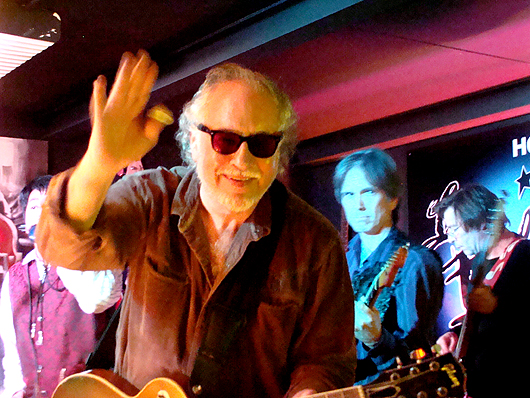 The tour ended on a historic note, with our first appearance at Chez Le Chat, the only new venue of the tour. The Cat's House is crammed with feline memorabilia, and hosts Claude and Claire lay out a classic spread of typical Swiss fare and local wines. The place was sold out, the folks were rowdy and willing, and we rocked 'em until the wee-wee hours. This crowd tied the Gwölb for the greatest of the tour, and we broke our all-time record for CD sales!
Even among all the good times and fun, there is sorrow that even playing the Blues can't wash away. This was the first Swiss tour without our great friend Jane Starkenburg. She died of cancer on New Year's Day.
Jane loved the sportin' life and the live music scene, cats, pizza and good wine. She had a talent for making friends with almost everyone she met, and any place she was quickly turned into a party.
It was Jane who introduced me to Denise in Davos in 1992. Over the years, she made it to most of our Sargans and Oberschan gigs, she came with us on one of our Orkney Islands trips, and she spent a week with us in Florida in 2010. Everywhere she went she had a great time, and so did everyone around her. We'll keep on playing, and keep on partying, as she would have wanted, but it will never be the same again without Jane.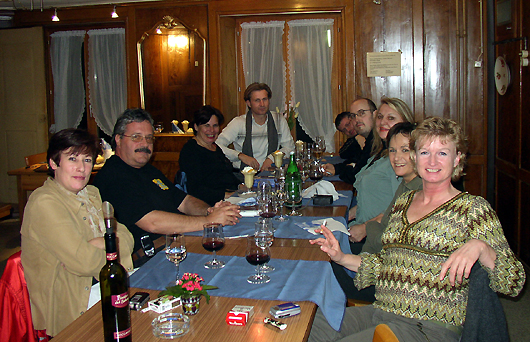 Jane with the posse in Oberschan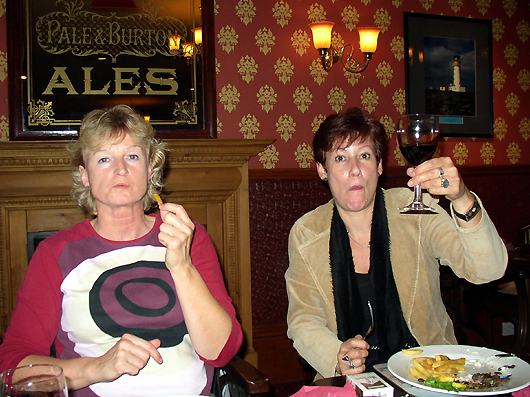 Jane and Grietjen at the Orkney Blues Festival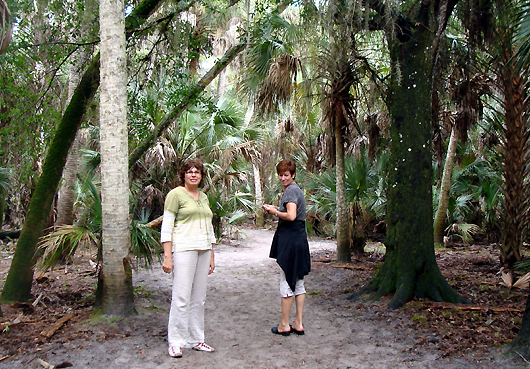 Jane and Denise in Florida