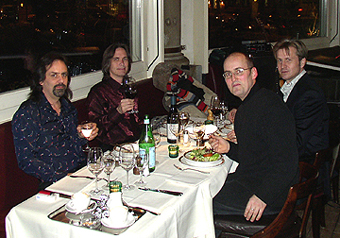 On our sixth winter tour of Switzerland, we once again had lots of great audiences, lots of fun and, as always, plenty of wonderful meals. We did 15 dates in Switzerland and 6 in Germany. We played everything from concert halls to fancy restaurants to funky music clubs. We even played outside in the snow! We did a couple of live radio broadcasts and scored feature articles in several local newspapers. We also sold a record number of CDs.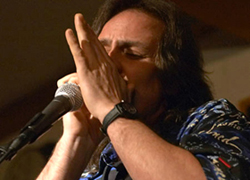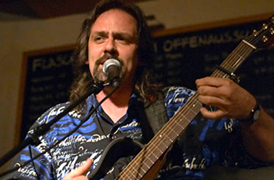 Devin Rice added a string to his bow, or a bow to his quiver, playing guitar on this tour for the first time.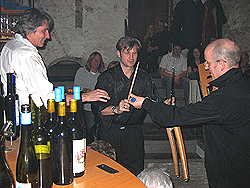 In Weinfelden, the capital of the Thurgau wine-growing region, we played in a real wine cellar, hewn out of the solid rock. We ate good food and drank excellent wine with a very nice group of people. Not one but two local newspapers sent reporters to the event, and they were particularly impressed with Speedy's patented walkabout drum solo. One headline read "Barstool Used as Drum."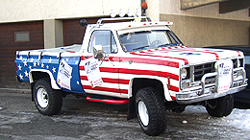 In Zäziwil im Emmental, we played for our old friends the Chansons, a distinguished family of hoteliers who have recently taken over a grand old guesthouse called the White Horse. They decorated in All-American style in our honor.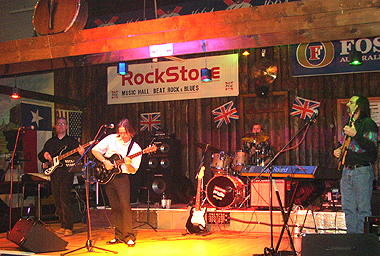 The Rock Store in Basel is more of a country bar than some country bars I've been in, at least in this country.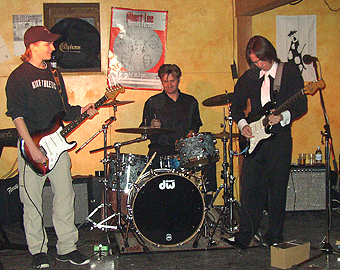 In Nyon we met up with Joe Frank, a young chap we met on the beach in Treasure Island and a damn fine axeman. Here we are tradin' a few licks.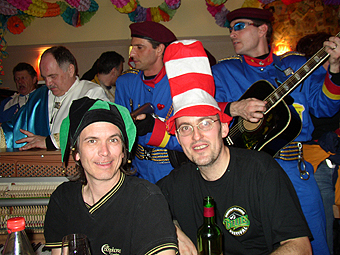 Dave and Chuck were just in time for Carnival in Olten. Christian and Beatrice showed us a wild and wacky time, as usual. Anybody tell you them Swiss was a buncha stick-in-the-muds? Well, 'tain't so!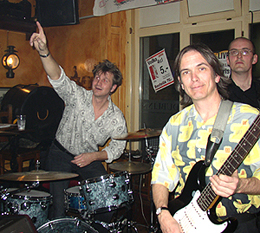 We always have a great gig at Dublin's Pub in La Chaux-de-Fonds.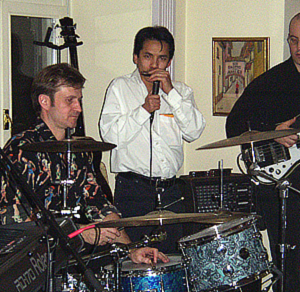 In Fribourg we had a jam with Bonny B, a fine harp player who often plays with Speedy.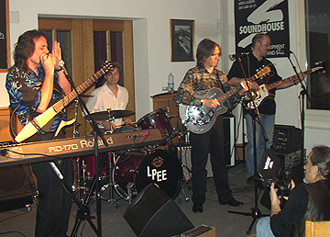 We had a great gig at Phil's Blues Club in Lucerne, a new club with a great stage, great food and an excellent wine list.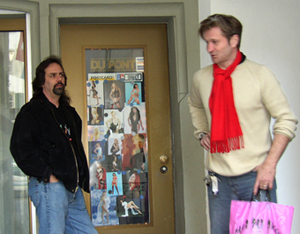 We were on the go most of the time, but in Lucerne we had time to do a few of the usual tourist things.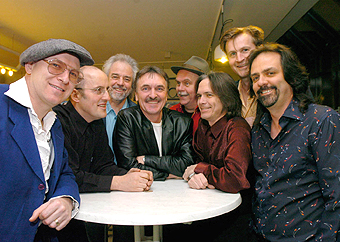 A highlight of our tour was the Mettman Blues Festival, a week of concerts in the Ruhr region of Germany. Here are all the artists of the festival (left-right): Eddie Martin, Dave, Colin Earl, Stefan George, Dave Peabody, Charlie, Speedy, Devin.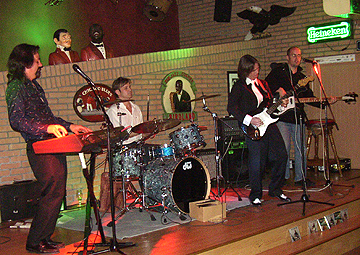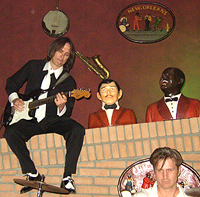 The Cotton Club in Zug is a really cool place, loaded with bluesy decor. It was a fitting spot for the last show of the tour. All in all a pretty good tour. No equipment broke down, nobody barfed, and we left through the front door every night.
The next Swiss tour will take place from Late January through February 2006.