The What A Scene! Tour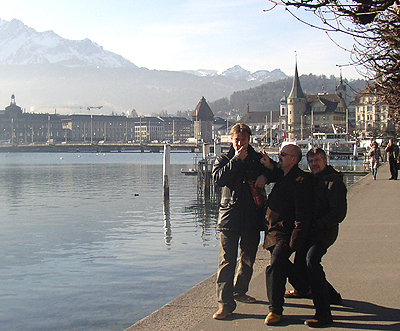 Well, what a great tour! I do believe this was the funnest one ever, and that's saying something. Maybe it was the standing-room-only crowds at almost every show. Maybe it was the fact that every place seemed to have made some improvements - new stages, sound systems, cool! Maybe it was the lack of any of the nightmares that can and do occur on the road. Or maybe right now I'm just more focused than usual on how fortunate I am to be doing this, and to have such a great group of guys to work with. All are wonderful musicians and entertainers, and we all not only get along, but have a ball playing and traveling together!
We started with a live broadcast on the Radio Paradiso show on Radio Suisse Romande (RSR), our fourth appearance on the show. The first concert was at Dublin's Pub in La Chaux-de-Fonds, an old favorite of ours (4 times? 5 times?). They had installed a new sound system, and buddy it sounded good! We had a great night there.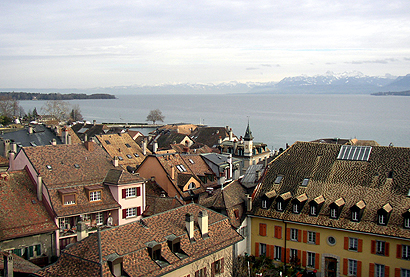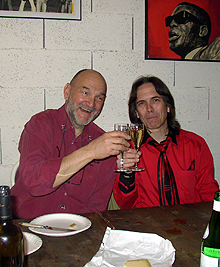 Next up was one of our all-time favorite gigs, the Bar de la Ferme, run by the same people who bring you the Paleo Festival. Nyon was once a Roman settlement. Today it's a sort of bedroom community for nearby Geneva. Mr Denys Gillieron is one of the most gracious hosts we know, and always puts on a full course meal with a nice selection of wines. Despite the fact that the show was held in a temporary venue while the Ferme (farmhouse) itself goes through renovation, we managed to pack the place. Denys allowed as how it was the best crowd he'd ever had!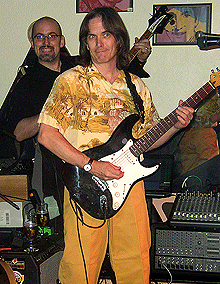 La Cintra in Fribourg is another place that we've had the pleasure to play several times. It's a cozy local bar where the regulars know how to have fun. They had installed a nice new stage, which made us feel like stars.
Next we crossed over the Roestigraben for our second visit to the Bierhaus in Sempach. Here they had also installed a new stage. It's amazing how even a couple of inches makes such a big difference (that's what she said)! This place takes the prize for smokiest bar of the tour!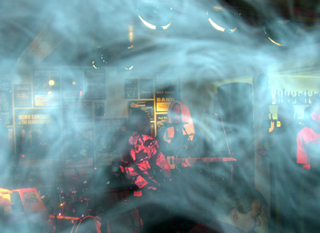 Next up were two old favorite venues of ours. S' Gwoelb, just outside of Zurich, is a classic underground stone cellar. Host Hans-Joerg puts on a nice dinner show. We found the place packed with a great audience who bought record numbers of the new CD.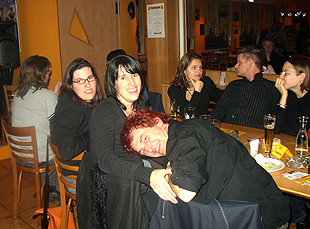 The Alte Post, just outside of Olten, is like our local bar in Switzerland, as lots of the Tigress's relatives and freinds live in the area. Beatrice, Christian, Marianne and Barbara were among the stars who crossed the red carpet this evening.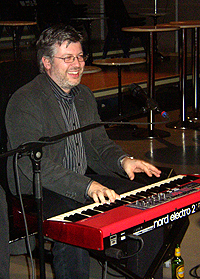 We introduced a couple of new turns this year. Keyboardist Markus Baumer has added a Nord Electro to his quiver, so now he's a double threat on piano and organ. This little red powerhouse has the best Hammond sounds I've heard in anything smaller than an XB-2. It's basically a complete digital simulation of a B-3, with (virtual) drawbars, a Leslie simulator and various effects goodies (maybe a few too many). I've always been a huge organ fan (TWSS), so adding that killer fatness on top of Markus's already stellar exploits on the eighty-eight gave me a big thrill. Speedy also picked up a new instrument. Les Zydecos sont pas salé!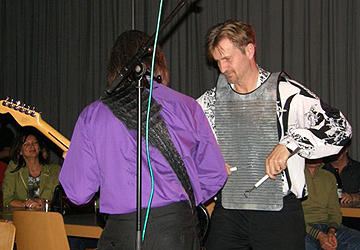 One does have to do some new things from time to time, and I figured after seven years it was time to change the show a little. So, you know the bit where I stop, leave the band hanging on the next-to-last note, and take a slug of beer? Well, now I'm taking a sip of wine instead. What a scene! No, but seriously folks, we added five new originals, and dropped a couple of old chestnuts from the active list. Mr Miracle nows holds forth over a zydeco beat, and Fool has been totally reworked as a slide-driven rocker. The new grand finale is a cajun-style instrumental in which Speedy struts around the room playin his washboard. Et toi!
Here's me and Markus blasting off into an alternate universe. Wow man!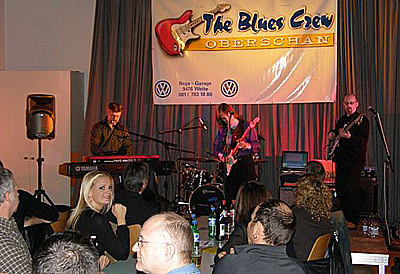 The Blues Crew in Oberschan is always a highlight of our tours, and this year was no exception. The wee village of Oberschan, "perched" on the side of a mountain (as a lesser travel writer might say), may not be New York, nor yet New Orleans, but this tight crew has been putting on some of the best blues concerts in Switzerland every winter for a decade. As always, Donatella took us out for a splendid dinner and generally rolled out the red carpet.
Nice stage, nice lighting and...far more important...a great crowd. They was drinkin, dancin, singin...all the stuff we like to see! And Donatella took some great pictures, some of which you may see right here! What a scene, eh?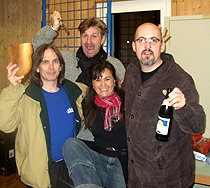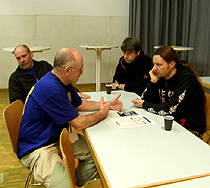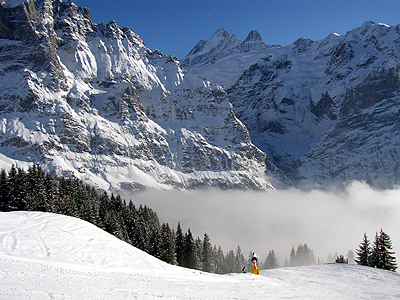 The Hotel Eiger in Grindelwald was one of the first gigs I played in Switzerland, back in 1994. The crowd in the Gepsi Bar comes from all over the world, and they come to have a good time. The hotel and restaurant are consistently fantastic, under the watchful eye of the Heller family and their superb staff. I even wrote a rave review of the place in my Swiss book. Yes, I fancy I know a thing or two about hotels.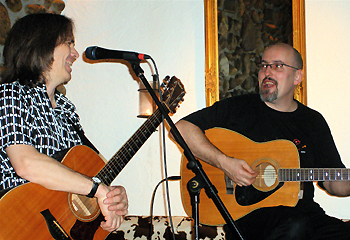 This year Mister Dave Clarke joined me on guitar and lo, a duo was born! CMB fans who revere Dave's bucket-o-beans bass licks may not realize that he can play guitar quite well as well. Well, he can! And he can sing, and do all kinds of other useful things that I have not had time to tell you about. There is no time now. We had a ball clownin in the Gepsi Bar!
We came down from the Alps nursing our bruises, and limped into the Alte Muehle in Langenthal. This is another "home" gig for us. Swanky dinner show packed with friends and fans. Thanks again!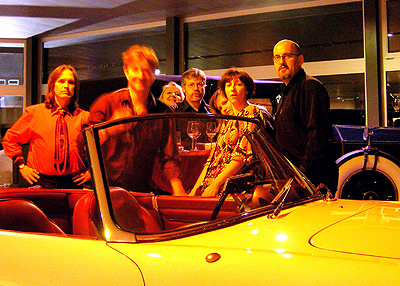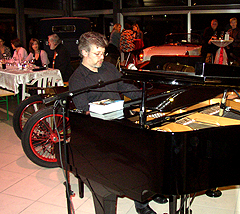 Now this gig's a little different! The Rolls Royce Bar is located in a very exclusive automobile dealership. Swiss high society gather here to sip Champagne and pick out their next Ferrari, Maserati, Rolls or Aston Martin. The theme this year was roadsters - the cool little cars that Tintin used to race across the desert in North Africa.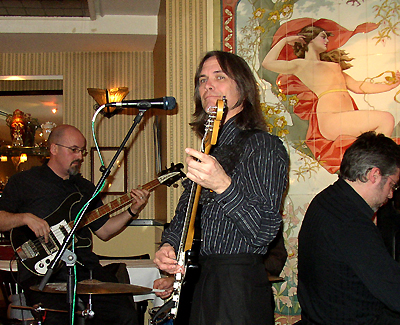 The Hotel Belle Epoque is a charming boutique hotel in the heart of the medieval city of Bern. A dozen sumptuously appointed rooms with wonderful paintings and furniture, all in the Art Nouveau (Belle Epoque) style. They also earned a glowing review in my Swiss book. Playing here is always a joy. The restaurant is small and intimate, so we put on a smooth and mellow show. It was a nice change of pace for us after the big n rowdy gigs like the Blues Crew.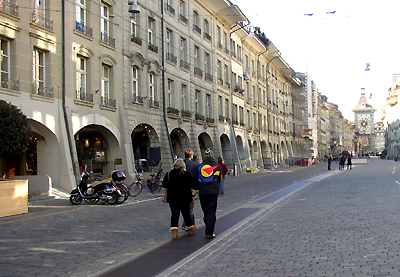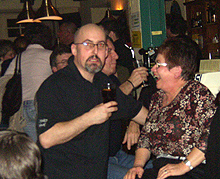 The Brasserie 17 in Interlaken is another regular stop on our tour. What is this, 6 or 7 times here now? It's a rootsy little spot where we always have a ball. Bart and Piet take good care of us (Piet even gets in some backing vocals from time to time!) and the crowd is always rockin. A mix of locals and hip young travelers.
The Kulturhaus Rosengarten in Gruesch was a new gig for us, and it turned out to be a real highlight. A small and intimate theater, the vibe was totally different from any of the other gigs this year. The audience was attentive and amazingly affable, and promoter Edith Janett really rolled out the red carpet. That's the big red carpet, not that little one! The Hotel Krone was fantastic, an elegant statement of old Buendner style. And right across from the gig! We love that!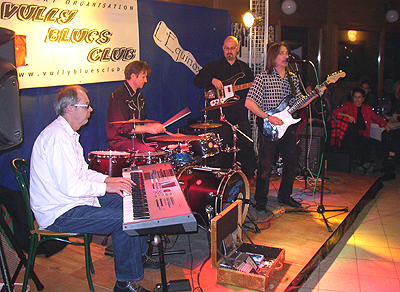 Another new venue (one of only two this year), this was the last gig of the tour, and a bit of a last-minute booking, but the Vully Blues Club turned out to be a fantastic finale! The local blues posse put on a very well organized show in a splendid local restaurant. They even served up a special "Charlie Morris Menu." It's the first time I've been so honored, and I honor them for their honorable treatment of me and my honorable men. The crowd was uproarious, would hardly let us leave (they definitely weren't about to let us leave sober), and snatched up the very last of our CDs. In fact, the last few punters got palmed off with some old CD-Rs we had lying around in the van (not 100% sure what's on 'em), sorry about that! Whoever you are, send me your address and I'll send you a good one.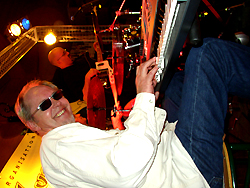 Markus couldn't make this last gig, as he was playing down in Italy at an organ festival (heh heh). M'sieur Dom Torsche filled in, and did a splendid job. Not only did he fit right in on the songs, but he even showed up with the same kind of beard as everyone else! A real team player.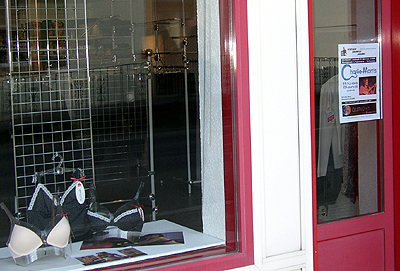 Here's our poster in a local bra shop. Great idea!
Now perhaps you think we had had enough fun at that point, and should have just packed up our gear and gone home. But in fact, we returned the next week to the studios of Radio Suisse Romande, and cut several new original tunes that we had worked into our show on the tour. A couple of these little gems eventually found their way onto Ten Tall Tales.