Charlie Morris
Live at the Gator & Chips
BluesPages 70009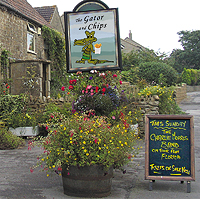 Charlie Morris started touring Europe several years ago and he has built up quite a following over the years. His latest CD features one of his live performances in the UK last year, specifically at The Gator & Chips pub in Fulchester, according to the liner notes. There's a photo of the pub on the cover. But there's more here than meets the eye.
I wondered what kind of a pub it is - who else might have played there, but I could find nothing about the Gator & Chips online and when I googled the town of Fulchester, I found, to my astonishment, that it is listed as a fictitious town supposedly located in the north of England. It's where most of the comic strips in the humorous Viz comic are based, and was originally created for the British television drama, Crown Court. I asked Charlie for an explanation, and he swears there really is a Fulchester and a Gator & Chips pub and that he met two local lasses named San and Tray there and also a blond bird named Alfie, who were a bit of alright...
The performance on the album is a bit of alright too. Charlie's easy vocals and guitar go down as smoothly as that platter of fish and chips (or is it gator?) on the back cover. The set features several of Charlie's originals with refreshing, new arrangements: Fool, No Mo Money - a nice, slow blues featuring a terrific piano solo by Devin Rice, Can't Stop Cleanin' and Mr. Miracle. Rice also plays harmonica on Can't Stop Cleanin' and wrote Lyin' Dog.
The album winds up with a stomping version of the only cover track, Willie Dixon's Evil, and a very interesting (R-rated) story of a night of erotic abandon. If Alfie Don't Mess With My Money is a true story, Charlie is leading a much more debauched life than I imagined.
Live at the Gator & Chips is another fine outing for the Charlie Morris Band. When is a major label going to pick up on this guy? They're selling this album in Japan, Russia, all over. As for the Fulchester mystery, I'll be doing my Sherlock Holmes impression until it is solved.
- Norman Davis