2014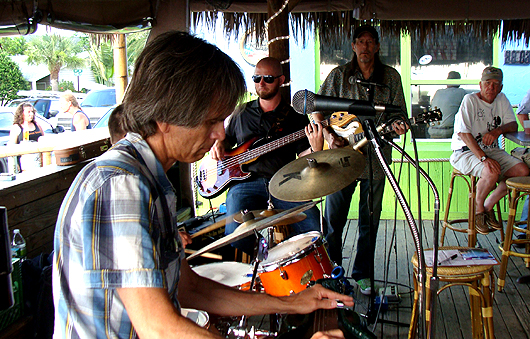 We began a regular band gig at the Ka-Tiki which continues to this day (fingers crossed). Frequent guest stars at the Ka include Dave Cotten, Sandy Atkinson, TC Carr, and (pictured here) George Harris. In the background you can see our good friends and loyal fans Ray Millington, Lori Cherry and Todd Ragsdale.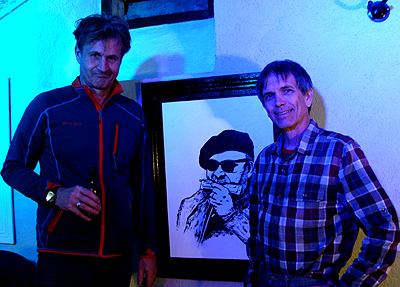 At the Rock Bottom Blues Club in Switzerland
The band in 2014 - Eric Elsner and Ryan Lack. This was taken at a party at the house of old friend Eric Evans.

Charlie and TC Carr played a duo gig for the Lakeland Folk Club.





We played 4 festivals and 4 clubs on our Lightning Strikes Nice Tour of Switzerland and the UK. Cool weather, hot crowds, smokin music!





Tim Heding joined us on keys for a concert at a beautiful park in Seminole.

We had a lengthy house gig at PJ's, and had many a fun time and many a fish sandwich there.
2013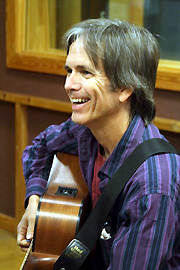 Started off the year with a couple of listening-room style shows. Did a duo with Tommy Bell for the Joe Prine Concert Series at an art gallery in Lakeland, and appeared on WMNF's Florida Folk Show that week.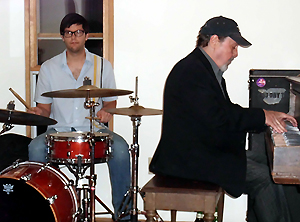 Next up was a house concert for my friend Heidi on Sunset Beach, where Tim Heding got to hold forth on a real live piano.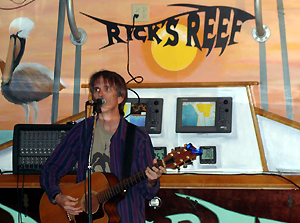 Spring is always a busy time in Florida. Continued my regular Thursday solo gig at Rick's Reef (with occasional guest stars, including TC Carr), as well as frequent appearances at the Mosquito Grill in Land O Lakes, played several dates at the Saturday Morning Market in St Pete, and debuted at the classy Ocean Blues in Sarasota.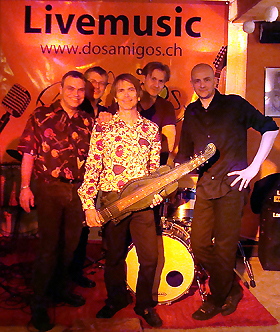 In February and March, it was time for the yearly Swiss tour and ski vacation. Shredded the pow in Arosa, played seven great shows with Speedy, Markus and Ivan. This was our tenth time (we think) at Padu's place - Dos Amigos is the third (and best) club he's had.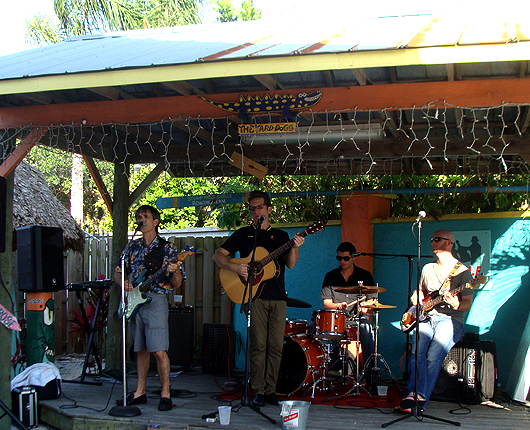 The band, with Eric Elsner on drums and Ryan Lack on bass, did a full schedule of Florida clubs. Here we are at the waterfront Stump Pass (which is, alas, no more) with Tommy Bell joining us.
Our good friend and sometime bass player Jeff Avrin, with us at the Sunset Beach Civic Association barbecue.

Seeing double? Or is it just the pair-o-Lacks? Ryan and Andrew.

We had a great time playing at the Cotee River Fest in New Port Richey.

The Bluescoast Sessions proceeded further - harp legend TC Carr laid down some tracks at George Harris's new (and incredibly neat) studio, and we did a session with B-3 wizard Shawn Brown at The Springs in Tampa.

Charlie turned 50, and had an enormous party at the house.

Charlie appeared with Cornfused at the Treasure Island festival.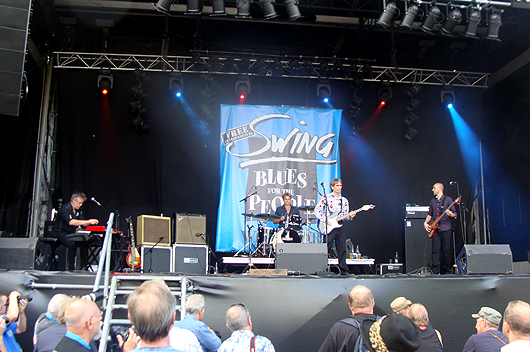 In August, we gave the Belgians a taste of Florida gator tail at the Swing Festival in Wespelaar, a suburb of Brussels. We also participated in the Swiss Blues Challenge at the Magic Blues Festival in Ticino.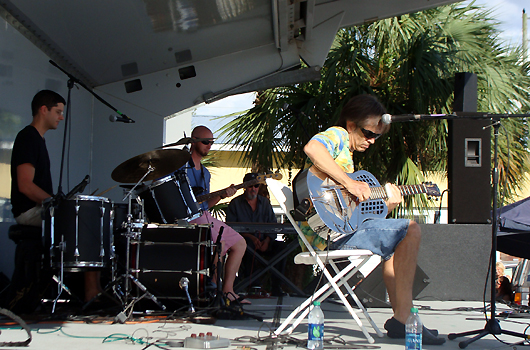 The Tangerine Blues Fest was one of the few outings for the hub cap guitar.
2012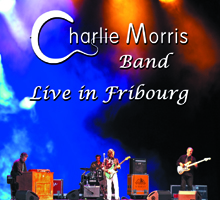 Dig this, man. Live in Fribourg, the new DVD and CD set, shows the Charlie Morris Band at their best - playing original Blues at a European festival. The DVD contains an hour of concert footage, plus 4 short home movies of antics on the road. The companion CD has all the tunes from the concert, for your automotive listening needs.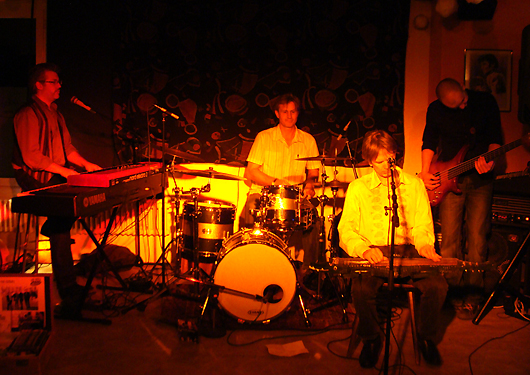 We had a splendid little tour of Switzerland in February/March. Still kicking, thank you very much! Great outings at a bunch of our favorite venues. The Florida gator lap steel enjoyed his first trip to the Continent.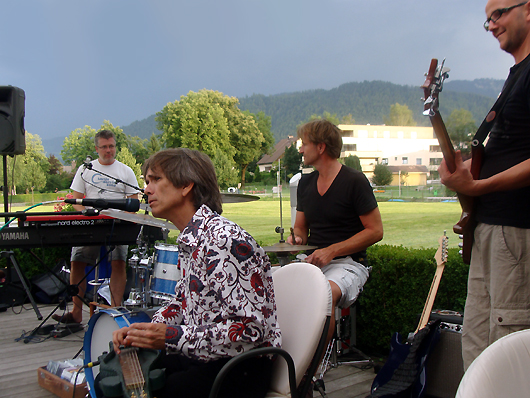 In July and August, Chuck was back in Switzerland for two festivals and three club dates, with a little side trip to Merrie Olde England.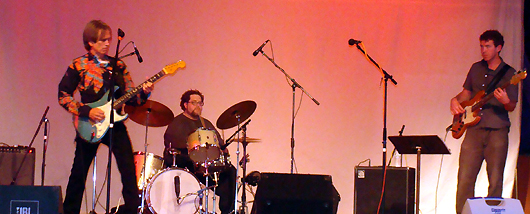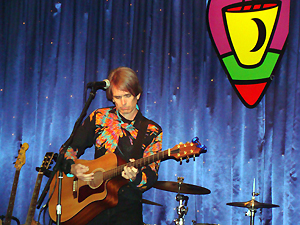 In October, Charlie took a little trip to the mountains. He played the Blue Plate Special in Knoxville, then headlined the Coming Home Blues Festival in Oak Ridge, with Taylor Coker on bass and Martin Hodge on drums. Then it was off to Asheville - love that town - where Charlie sat in with a couple of bluegrass groups and heard several great bands.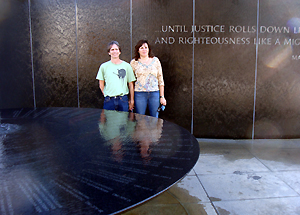 Next stop was Alabama, where Charlie played some granola tunes at Music on the Mountain, a very cool listening room in Birmingham. In Montgomery, we visited the Civil Rights Museum - this photo re-enacts one I have of my mom at the same spot.
2011

In February and March, we had another great winter Swiss tour. Same dudes, same clubs, same orange photo. Now it's official - it's deja vu all over again!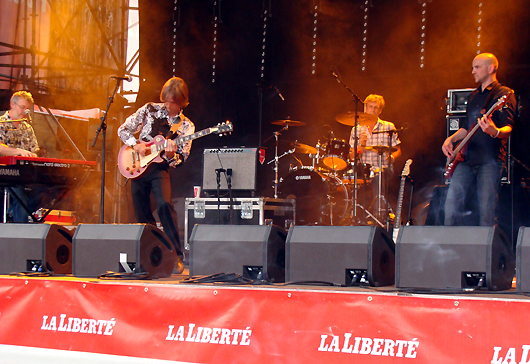 In June and July, it was a tour of Spain and Switzerland. Two festivals, three clubs, a wedding and lots of good times. Ivan Rougny replaced Dave Clark in the bass chair.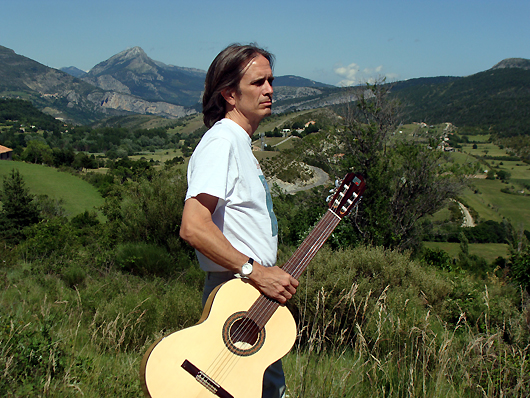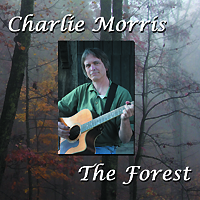 In September, Charlie released The Forest, a new disc and a new direction. It ain't blues, it's Americana if you will. These 13 songs all feature acoustic guitar, some have Dobro and some feature guest appearances by Dennis Wallace and Cornfused, among others. We did two CD-release shows (one in St Pete one in Tampa) as an acoustic trio called Charlie Morris and His Bowl o' Granola.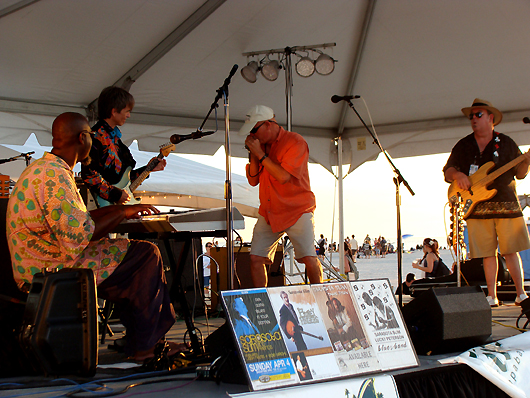 Charlie and the boys had a great time headlining the Treasure Island Sanding Ovations festival, with special guests TC Carr and Lori Cherry.
2010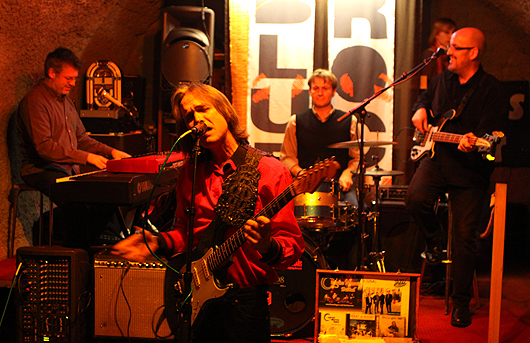 In February and March, we had another great winter Swiss tour, with 15 dates in a month. Wait a minute, is this deja vu all over again?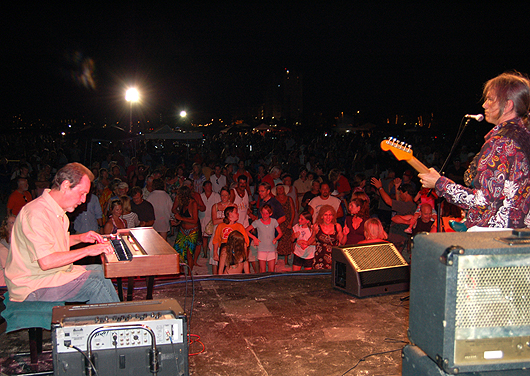 In May, Charlie and the boys headlined the Bands on the Sand show in Treasure Island. There were 8 bands and a crowd of over 5,000 people, dancing on the sand in true Florida style. In honor of the Earth Day oil spill, Charlie played Got Greedy, with a little anti-oil drilling rant to set it up. We also released Got Greedy as an online single, with a slide show of dirty pictures.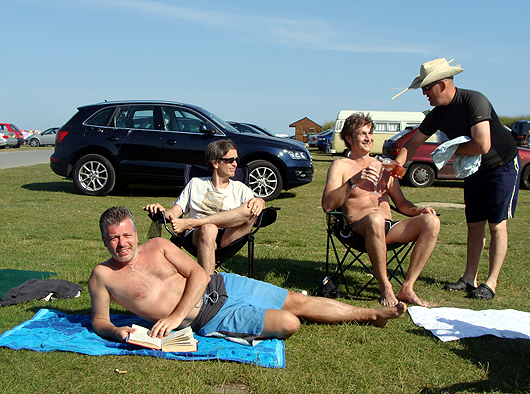 In June and July, Charlie popped over to England and Switzerland for a merry little tour, in which the boys stayed at Dave's lovely house in Chichester and did some splendid little shows in the surrounding countryside. Truly a Piece of Cake.
2009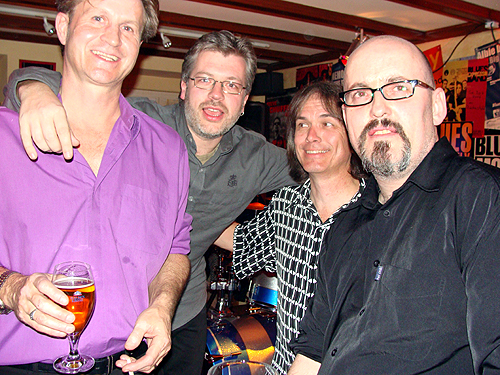 In February and March, we had another great winter Swiss tour, with 15 dates in a month.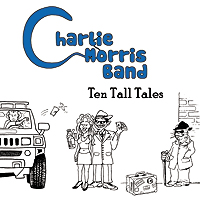 In April, we released Ten Tall Tales, a new studio CD featuring 10 original songs. We recorded the basic tracks in Switzerland in 2008, then brought her back to Florida to perfect the guitar and vocal tracks and mix down. Tom Bell drew the cover cartoons. We swear all these stories are true, but we don't claim that they happened to us!
2008

January saw the release of What A Scene! which was recorded live at the 2007 Montreux shows. This one captures the fun of a CMB live show. Did dual CD-release parties, at the Ka-Tiki and the Dunedin Brewery. Made a major radio push for this platter. To date, it's been played on over 80 radio stations in 10 countries.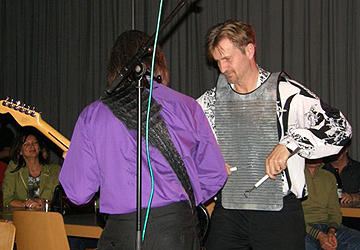 On the winter Swiss tour, we had standing-room-only crowds at almost every show, and sold a record number of the new CD, What A Scene! 11 of the 13 gigs were return engagements. That's a wonderful thing, but it means that we do have to learn a new turn at least every few years. This time we added five new original songs, Markus added a cool new organ to the mix, and Speedy started zydecoing it up on the washboard!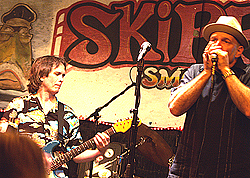 Back in Florida, Charlie gigged it up as usual, doing a couple dozen gigs around Florida, and two in North Carolina. One of the highlights was a mini Florida tour with blues and soul master Darrell Nulisch.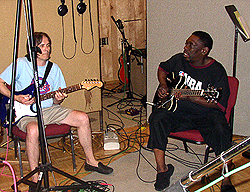 The Bluescoast Sessions continued at Panda, with guests Lucky Peterson and The Sauce Boss. Charlie brought in some of the best bluesmen from Florida and beyond to improvise some blues live in the studio. The results were released in 2017.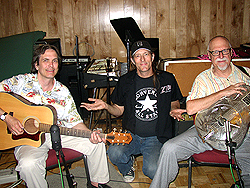 It's always lots of fun hanging out at Panda. And that's a good thing, because Chuck spent a lot of time there this year, not only on the Bluescoast Sessions, but also mixing down the new Swiss studio CD, working on an all-acoustic solo disc, and helping Alan Craig out on a couple of his new choons.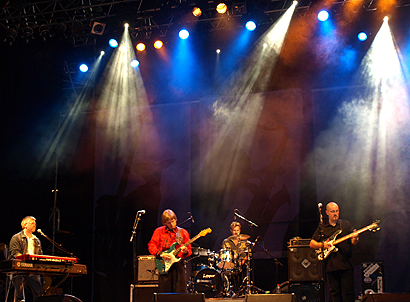 In July and August, Chuck and the boys let those good times roll on the Hé Toi! Tour. Five festival and three club dates in Switzerland, plus a private party in France. Also tracked ten songs with the Swiss boys for a new studio CD [Ten Tall Tales].
2007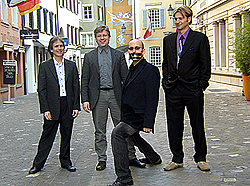 CMB started 2007 with our eighth tour of Switzerland, a 15-date outing dubbed the Swiss Milkmaid Tour (ask Speedy about the name). We did 15 dates, including some old favorites and two new clubs, the Bierhaus in Sempach and Harry's New York Bar in Montreux. As always, we had lots of laughs and ate and drank lots of good stuff. We also shot some video, which ended up as one of the home movies on the Live in Fribourg DVD.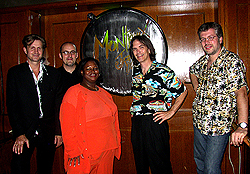 In July, we dropped in at the Montreux Jazz Festival for a seven-night stand. We held court at Harry's New York Bar in the Raffles Montreux Palace Hotel. This ritzy little spot is right across from the festival's main stages, in the hotel where most of the performers stay. Joining us on this gig was the fabulous singer Tiza B, who peeled the paint with her renditions of some of our favorite R&B and Soul classics.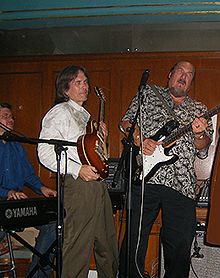 Speaking of R&B and Soul classics, who should stop in at Harry's but Steve Cropper and Duck Dunn, the godlike figures who played on and co-wrote many of those same classics. They turned out to be friendly and ready to have some fun! We drank some wine and jammed for most of the night. Various other distinguished guests showed up to play, including the excellent sax player Aaron MacDonald, and legendary festivaldirector Claude Nobs.
Charlie also did a bunch of gigs in Florida (Orlando, Cocoa , Ft Myers) and one in Tennessee (Brackins Blues in Maryville), and spent some time at Panda Studio, working on 3 or 4 new CDs and indulging in madcap antics and zany hi-jinks with George Harris.
2006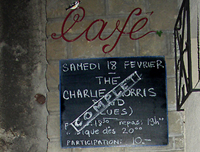 Charlie started the year off with a 12-date tour of Switzerland, called (for obscure Charlesque reasons) the Big Foot Tour. Keyboardist Markus Baumer joined the Swiss band, and did a fine job.
In April, Charlie popped over to England for an appearance on the main stage of the Burnley Blues Festival.

Charlie released a new CD, Live at the Gator n Chips, which was recorded on the 2005 tour of the UK. Charlie did two CD-release parties, one at Chuck's local, the Ka-Tiki on Sunset Beach, and one at the fine Blues club the Smokin' Dog (alas, now defunct), as well as several radio interviews to promote the new platter.
In Summer 2006, Charlie made his second appearance at Brackins Blues Club in Maryville, Tennessee. He also did a passel of Florida gigs - for a while the gig hound was doing seven or more gigs per week - Bow wow!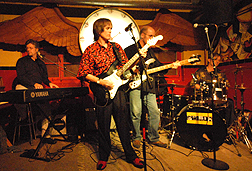 In September and October of 2006, Charlie did a 14-date UK and Switzerland tour. It was a return to the scene of the crime, as the new live CD was recorded in the UK on last year's Fall tour. This time the gator travelled with us in the form of a guitar strap, which was much less dangerous for all concerned (although a couple of people did get bit).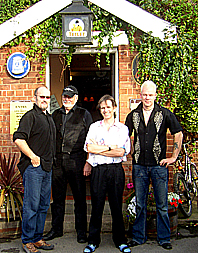 The first leg of the tour was in England, where we played three pubs and a festival. At the Banbury Festival, the band played a set on the main stage, and Chuck did a solo set on the acoustic stage.
Next we crossed the creek to Switzerland to play several club dates, a private party that paid tribute to our mentor Rock Bottom, and a live radio broadcast on the Radio Paradiso show, where we played Mr Miracle and a new song, Can't Do Nothin, and did a short interview en Francais. The tour ended up with a 20th anniversary party for La Spirale, the top Jazz club in French Switzerland.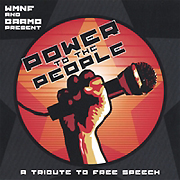 In November, Chuck and the band played at the Power to the People concert at Skipper's Smokehouse, which featured 30 bands! We played a new song, I Don't Know My Neighbors Anymore. An acoustic version of this song was released on the new CD, Power to the People, which features 15 songs of protest and political punditry by various artists. A band version of the tune later ended up on The Forest.
2005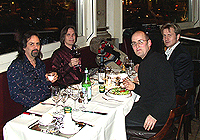 The year began with a lengthy winter tour of Switzerland and Germany, including the Mettman Blues Festival in northern Germany. With typical infantile humor, the boys dubbed this the That's What She Said Tour.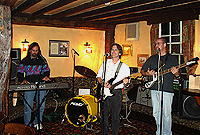 The boys did a long and grueling tour of England and Scotland, which they dubbed the Gator n Chips Tour, because an alligator from Florida, which had imbibed a little too much tequila at one of Charlie's gigs, somehow managed to stow away on the plane, and followed them all through the UK. The boys finally managed to trap the rambunctious reptile (or soused saurian), battered him and fried him, and served their British friends a transatlantic treat! This was a marathon tour of 22 gigs, including the Great British R&B Festival in Colne and our second appearance at the Orkney Blues Festival.
In 2005, Charlie also did a couple of dates in Knoxville, Tennessee, as well as a full schedule of Florida gigs, including road trips to the International House of Blues in Orlando and Lou's Blues on the East Coast. Tom Bell (drums) and Mike Chavers (bass) were the usual Florida band at this point, with Dean Germain or Tim Heding on keys.
2004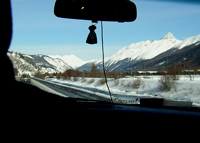 This year's winter tour was called the Pack n Bitch Tour, for reasons which will be familiar to any touring musician, and included 19 dates in Switzerland and Germany.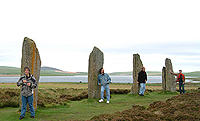 In September, we made our first tour of the UK (the Cheap Scotch Tour), wending our way through England and Scotland all the way up to the Orkney Islands Blues Festival.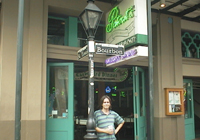 From 1998-2004, Chuck and his boys made a more-or-less yearly Crescent City Crawl to New Orleans, including various gigs in the Panhandle, Alabama, Mississippi and Georgia.
2001-2003

In 2003, Charlie released Still got 'em, his second CD on BluesPages. These nine original tunes, recorded at Panda Studio in Clearwater, run the gamut from a solo acoustic number to several full-production cuts with a horn section and all the trimmings. Heavy-hitting guests such as Sandy Atkinson, Sugar and Spice and TC Carr round out the fun. The best compliment to this one came from Tampa Bay Musician, who said, "While many people go to endless lengths to get that 'classic' sound, Charlie shows us how on this CD."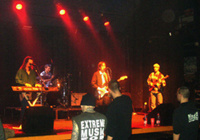 Charlie has done a band tour of Switzerland every winter since 2001, following in the footsteps of the great Rock Bottom, and using some of the same local musicians. Is it cold over there? You bet your bippy! But since when have musicians been known for having a sense of timing?
1998

In 1998, Charlie released his first Blues CD, called Bluer Than Thou. The ten self-penned selections (plus one by pianist Gary Doyle) include such future classics as Mr. Miracle,, Can't Stop Cleanin' and No Mo' Money.
1992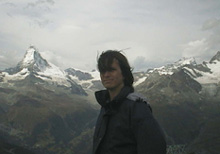 In 1992, Chuck went to Europe to seek fame and fortune (or at least, slightly more appreciative audiences and slightly better money), and became a lifelong Europhile. He met his wife, Denise Bonjour (aka The Tigress) in Davos (she wasn't his wife at the time, but later became so). Since then, Charlie and his band have played all over Switzerland, as well as in the UK, France, Holland, Belgium, Germany and Norway.
Charlie played at the Hotel Eiger in Grindelwald every year from 1994 to 2011 (both solo and band gigs). He's appeared at various luxury hotels, including the Ermitage-Golf in Gstaad, the Schweizerhof in St. Moritz, and another Schweizerhof in Zermatt. He's also done most of Switzerland's top Blues clubs, including the Mahogany Hall in Bern, INOX in Baden, and Le Chat Noir in Geneva.
1990 or so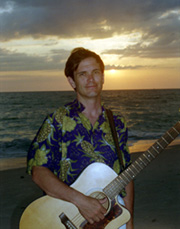 Leaving the sea, our jolly tar returned to St. Pete and began to play around town as a solo and as a member of various bands. Over the years, he's done not only Florida's best blues clubs such as The Ringside, Skipper's Smokehouse, the Bamboo Room and the Bradfordville Blues Club, but also some of her famous luxury hotels, including the Don CeSar, Tradewinds, and Bellevue Mido, as well as the Ocean Reef Club in Key Largo. Not to be modest about it, Charlie has played every gig that matters in the St. Pete/Tampa area, and quite a few of the other kind as well.
During the 90s, Charlie spent a good bit of time teaching guitar at Seminole Music in St. Petersburg, and recorded a solo CD of original music.
1987
Charlie spent a couple of years with a dance band called Cheers, traveling around Florida and throughout the Caribbean on various cruise ships. Charlie has also played several ships as a solo artist, and as a member of house showbands.
Chuck has paid his lounge-lizard dues in full, having accompanied several Elvi, several sets of Blues Brothers and other typical forms of lounge life. At one point, he even played in a place called the Starlight Lounge.
1980
Charlie Morris attended Eckerd College in St. Petersburg, graduating in 1984 with a Bachelor's degree in Music. With fellow students Alan Craig, Devin Rice (future St. Pete Mountain Boys), Sue Finger and Dave Bawel (later Dave Fury), he formed a band called Lotus, which gigged steadily on the Florida circuit and released an album of original music in 1984.
1978
Inspired by the Beatles, Charlie picked up the guitar around age 15. His greatest musical influence was his older brother, Bruce Morris, a guitarist and serious Blues fan. As Charlie has pointed out many times over the years (yeah, yeah), all modern popular music is descended from the Blues, so a good grounding in same is essential for any musician who wants to play with soul. Charlie considers himself very fortunate to have learned this from Bruce right at the start. Bruce also inspired Charlie's lifelong love of travel.
1963
Charlie Morris was born in Miami in 1963, and grew up in Georgia and Tennessee. He's been writing songs, and playing various instruments, since he was 6 years old. As a kid, he played classical piano, inspired by the immortal Schroeder.