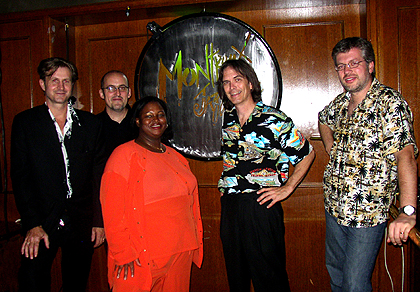 It was quite a wild week for the Charlie Morris Band at the Montreux Jazz Festival! We played in Harry's Bar, at the Raffles Montreux Palace Hotel, just across from the festival's main concert venues. We played seven nights, and had standing-room-only crowds for most of our shows. World-famous musicians, road crew, managers and rich music fans made up the audience. No pressure!
Joining us for the week was the fabulous singer Tiza B. Originally from Michigan, Tiza has lived in Switzerland for the past 20 years. Tiza did a fantastic job, singing great Soul and R&B numbers from the likes of Aretha, Al Green and Etta James. She also became the latest Shakespearean songstress to put that male chauvinist Mister Miracle in his place!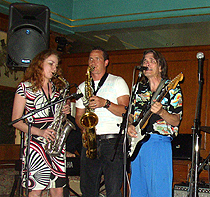 A star-studded cast of characters sat in with the band over the course of the week. Aaron MacDonald, an excellent sax player who was in Montreux to play with Roger Hodgson (Supertramp), hung out with us most of the third night. The lovely and talented Margarita, from Russia, also joined in, and we had us a horn section!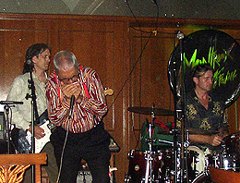 The next to appear was Mr Claude Nobs, the director of the festival, and a hero in the Jazz world. Claude founded the Montreux Jazz Festival in 1967, and has run it ever since. He stopped in for a drink at Harry's, and got up and played some harmonica with us.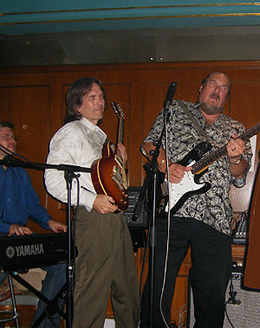 The biggest thrill of the week for us was getting to meet and jam with our heros, Steve Cropper and Duck Dunn. Just in case anybody doesn't know, these guys were the backbone of Booker T and the MGs, the house band at Stax Records, and played on just about every recording that got made in Memphis during the 1960s, from Otis Redding to Wilson Pickett. They co-wrote hits such as "Knock On Wood," "Midnight Hour," and "Dock of the Bay," which guys like me still play all the time. Since then, they've played with everybody from the Blues Brothers to Clapton to Ringo Starr and John Lennon.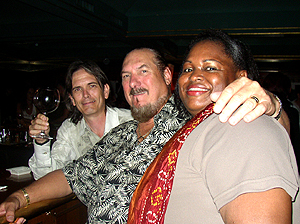 These two long-time partners are the friendliest, most down-to-earth guys you'd ever care to meet. We chatted over a few glasses of red wine, and they joined us on stage for Dock, Midnight and a looooong jam on "It's Your Thang!"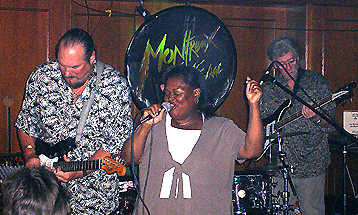 Harry's was packed all week, and this was no draft-beer-swillin crowd. Some of the beautiful people plied us with champagne and fine Scotch whiskey (but we still refused to play Mustang Sally). The staff were hustling and the bosses were happy as the Francs came rolling in. According to the management, it was their best week ever!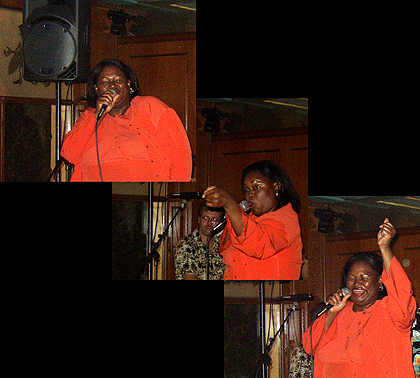 Tiza B joined us on this gig for the first time, and did a fabulous job. She's a great entertainer, has a set of powerful pipes, and sings some of the greatest Soul and R&B classics. We'll be sharing a stage with her again in the future.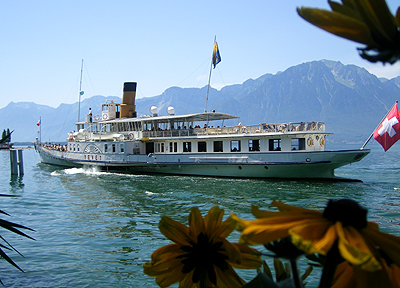 As I've said many times, Montreux is one of the most beautiful towns in Europe, with a flower-strewn lakefront promenade and spectacular mountains all around. It's a fantastic setting for the coolest festival I've ever been to (I've been to a lot). A couple hundred bands played on several stages, covering every variety of music under the sun - except Blues, oddly enough. Yours truly was the only Blues artist on the bill. I guess I should consider that an honor! This is a classy festival - the stalls don't sell just bratwurst and beer, but everything from sushi to champagne to pizza from a real wood oven!
After the Montreux gig, we went up to Grindelwald, where we played at their summertime Street Festival, courtesy of the Hotel Eiger. Charlie has been playing at the Eiger since 1994, and it's one of our favorite spots in Switzerland. The namesake mountain makes for quite a backdrop. The next day, we took a nice long hike in the Alps. Too bad Speedy wasn't there - he does love cows!