Ten Tall Tales Tour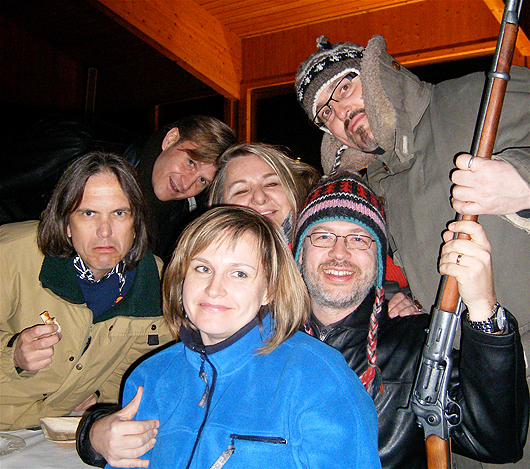 How many camels does it take to muster ten toes? How many camel jokes can one camel jockey spout, if a camel jockey speak in jest? How can four such intelligent guys have such a juvenile sense of humor? For the answers to these and other questions, be sure to catch the next gig!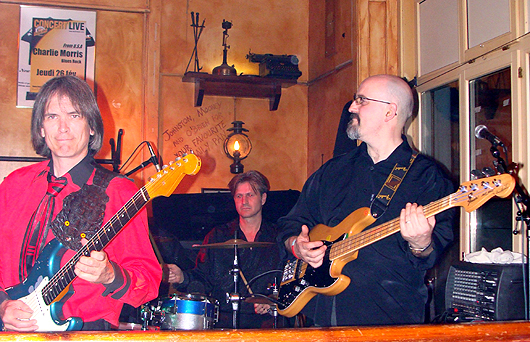 This tour was mostly return gigs (only 1 new one out of 19 dates). Call us boring if you like. But these folks treat us right! Started off at Dublins, one of our favorites, loaded with young lively locals, and the girls can see your willie when you go to the loo! What fun!

The Bar de la Ferme in Nyon is another home for us. Denys put on a great Swiss meal, as always, with a great selection of local wine. Had a good crowd, saw a few old friends. Speedy blew the crowd away with his patented walkabout drum solo (TM).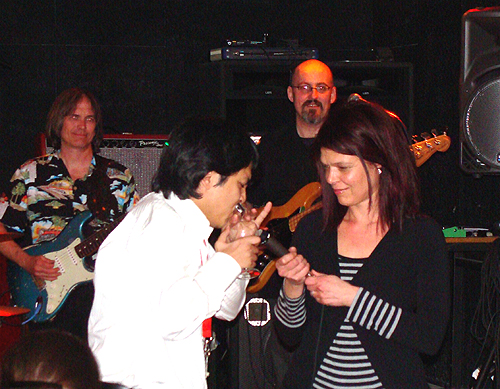 Our friend Bonny B dropped in on the Nyon gig and blew some harp. Here he molests one of the young ladies in the audience.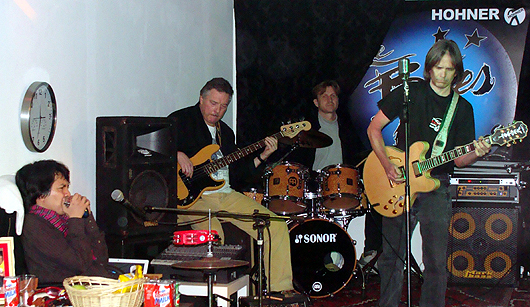 Later we played a few with Bonny at his club in Fribourg as he made harmonica history. Bonny B now holds the world record for continuous harp playing. No fooling! A rep from the Guinness Book of World Records was on hand to certify his smashing of the previous record. He blew for 24 straight hours, assisted by an ever-changing cast of local musicians. Here Charlie and Speedy lend their assistance. Well done, Bonny B!
The Vully Blues Club has a new large and very nice venue. What can we say, the folks were givin up the energy, dancin, singin along, buyin CDs and all that is proper!
Played a week solo at the Hotel Eiger in Grindelwald. Lots of fun as always, tho it snowed the whole time, so I didn't get to ski.
At the Brasserie 17 in Interlaken, we had a crazy crowd, then Pete the crazy bartender took us out for an all-night pub crawl. The next day was pretty rough, but...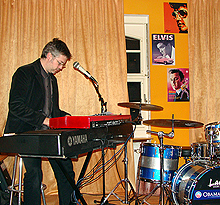 ...we had a really rowdy crowd at the Alte Post in Wangen bei Olten. Another place we've been playing for years, it's near Olten, the stomping grounds of the Tigress's family. Speedy got crazy and shuffled around on his knees during his drum solo. We thought the encores would never end!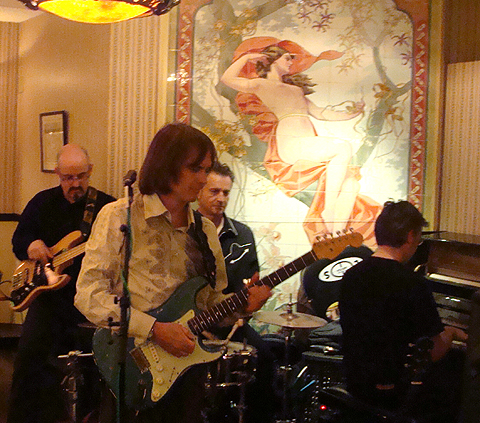 In Bern, the Rolls Royce Bar and Hotel Belle Epoque are nice classy venues, and the intimate setting makes a nice change. When you have to play quietly, neat things happen (like listening to each other).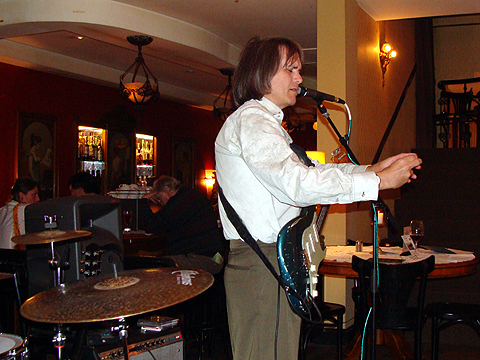 "Now Dave, where's your wife tonight? Let's look in on her on the old iPhone..."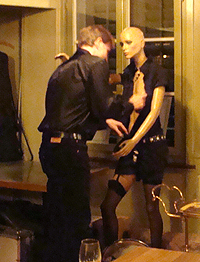 The Bierhaus in Sempach is an old favorite of ours. Owner Orest is a true Blues fan, and he knows how to take care of a band. Had a great time as usual there. Speedy took time out to chat up a female fan (the people that security lets into the dressing room these days...).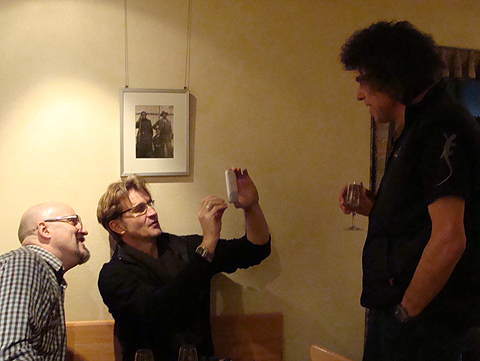 Another favorite venue is s'Gwölb in Watt. Here we had a wild crowd, and sold the most CDs of any show on this tour!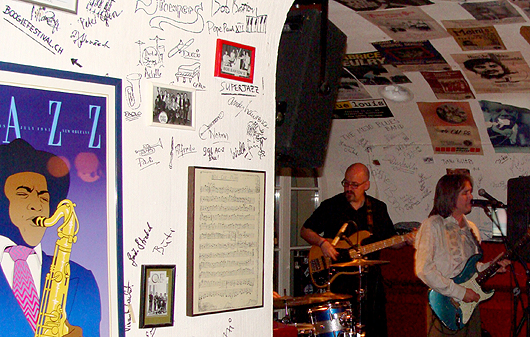 Yet another old favorite is the Dixie Jazz Club in Sargans (you didn't know we played Dixieland too, did you?).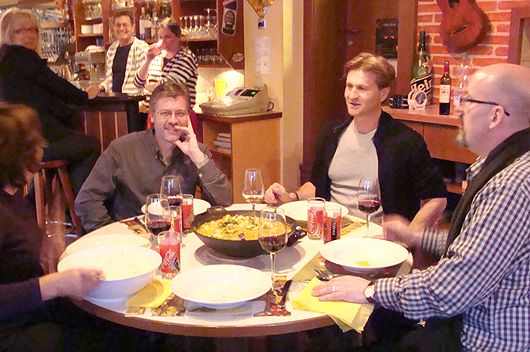 The only new venue of the tour, the Bäckerstübli in Scherzingen was fantastic - cool stage, great crowd, great Thai food!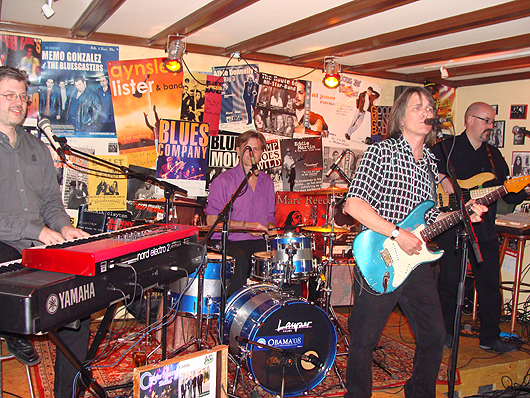 On stage at the Bäckerstübli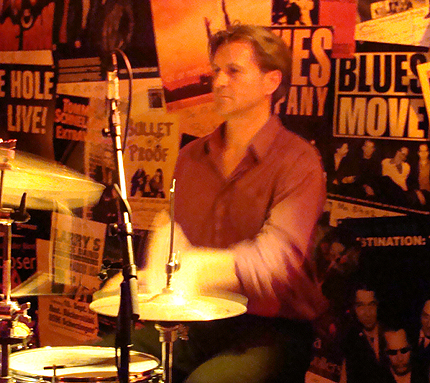 Speedy in high gear at the Bäckerstübli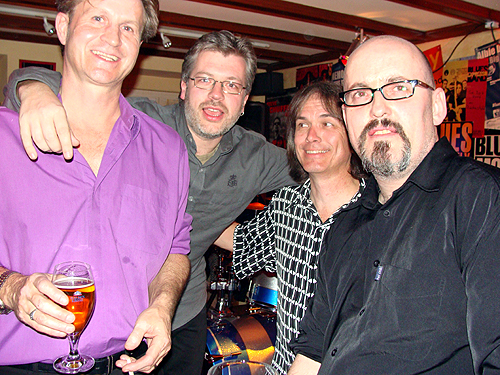 Clownin at the bar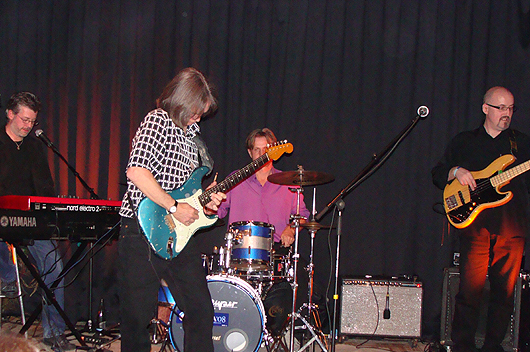 The Bluus Club Baden is as cool as ever! They have a new venue, the Nordportal there in Baden, and we rocked that house, as we have rocked so many.
We did a show at ETM in Geneva, where Speedy works as a teacher. We did everything we could to get him fired - got likkered up, cussed a lot, lit a joint on stage, drew a picture of a camel with the director's head - but last we heard, he still has his job. I guess drummers that are capable of getting up in the morning are hard to come by.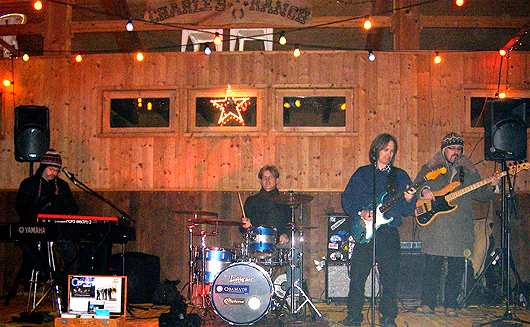 The last show was a private party at Charlie's Ranch, put on by an old friend, Fabienne, who was a good friend of our hero, Rock Bottom. A hundred or so folks braved the cold to hear us play in a horse arena and eat the best pizza of the tour.